B/N872 – Deepavali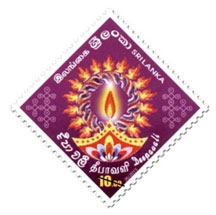 Sri Lanka Philatelic Bureau of the Department of Posts issued a new postage stamp in the denomination of Rs. 10.00 on November 10, 2015 to commemorate Deepavali Festival.
| | |
| --- | --- |
| Date of Issue: | 10th November 2015 |
| Stamp Designer: | Mr Givantha Arathasad |
| Catalogue No: | CSL 2129 |
| Sheet Composition: | 20 stamps per sheet |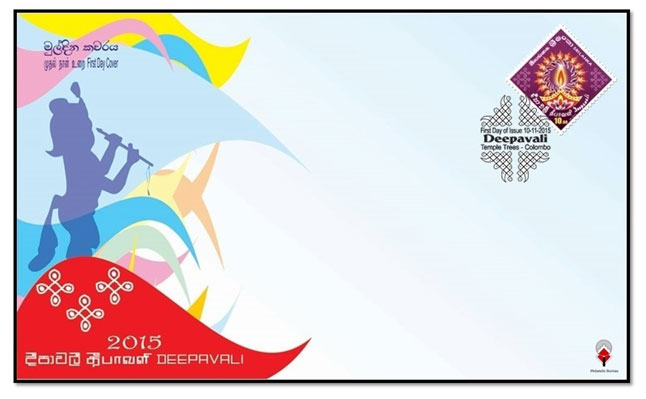 The word "Deepavali" means rows of lights,Deepavali is an ancient Hindu festival celebrated in every year. The festival spiritually signifies the victory of good over evil, light over darkness, and knowledge over ignorance
This is one of the most popular festivals in the Hindu calendar. It is celebrated on the 15th day of Kartika, according to the Hindu calendar. The main festival night of Deepavali coincides with the darkest, new moon night of the Hindu Lunisolar month Kartika. In the Gregorian calendar, Deepavali falls between mid-October and mid-November.
There are many interpretations of the meaning of Deepavali, its symbols, rituals, and the reasons for celebration. Diwali commemorates Lord Krishna's victory over the demon Narakaasura who had kidnapped and terrorized the gopis of Vrindavan. When the evil Naraka was finally killed by Lord Krishna and Satyabhaama, he begged pitifully for mercy. The day of his death was celebrated with great joy and festivity.
In general, Deepavali signifies the triumph of good over evil, of righteousness over treachery, of truth over falsehood, and of light over darkness. To Hindus, darkness represents ignorance, and light is a metaphor for knowledge. Therefore, lighting a lamp symbolizes the destruction, through knowledge, of all negative forces- wickedness, violence, lust, anger, envy, greed, bigotry, fear, injustice, oppression and suffering, etc. Though there are many mythological explanations to this wonderful festival, however, in the current world what the festival of lights really stands for is a reaffirmation of hope, a renewed commitment to friend ship, religious tolerance, spreading the word of peace and harmony and above all, celebration of "simple joys of life".
Electric lights, small oil lamps made of clay flames are important Deepavali symbols. They represent both physical and spiritual aspects of light. Sudarshana Chakra also one of the Deepavali symbol Sudarshana Chakra is the discus weapon of Lord Vishnu/ Krishna which is usually used for the ultimate destruction of an enemy and protecting good over evil.
All rights received. All right to identify the Department of Posts as the Author and designer of this Bulleting has been asserted in accordance with the Copyright, Design and Patents Act 1988.No part to this publication may be reproduced, stored in or introduced into a retrieval system, or transmitted in any form or by and means (electronic, mechanical, photocopying, recording or otherwise) without the prior permission from the publisher. Any person who does and unauthorized act in relation to this publication may be liable to criminal prosecution and civil claims for damages.