B/N 878 - Centenary of Sri Lanka School of Agriculture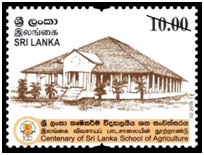 Sri Lanka Philatelic Bureau of the Department of Posts issued a new postage stamp to commemorate the Centenary of Sri Lanka School of Agriculture in the denomination of Rs. 10.00 on 16th January, 2016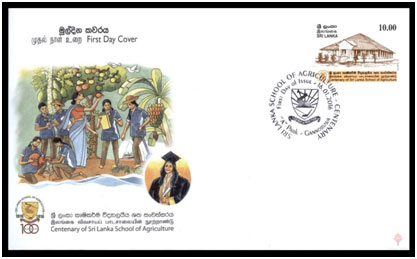 | | |
| --- | --- |
| Date of Issue: | 16th January 2016 |
| Denomination: | Rs.10.00 |
| Catalogue No. | CSL 2136 |
| Stamp Designer: | Mr. Palitha Gunasinghe |
| Sheet Composition: | 20 stamps per sheet |
Centenary of Sri Lanka School of Agriculture
Sri Lanka School of Agriculture is the first ever institution established for scientific Agriculture education in Sri Lanka. This was founded in 15th of January 1916 at Royal Botanical Gardens Peradeniya. Sri Lanka's first Prime Minister Hon: D.S. Senanayake was a student of this pioneer batch. Sri Lanka School of Agriculture – Kundasale was established in 1958 & followed by Angunukolapelessa & Pelewehera schools in 1981. Now there are 5 Agriculture schools all together with Vavuniya & Karapincha schools.
The Higher Agriculture Diploma offered by the Sri Lanka School of Agriculture is internationally recognized with the latest inclusion NVQ 6 professional status. It's a well balanced Diploma providing Practical & Theoretical knowledge
The Diploma holders passed out form Sri Lanka School of Agriculture have done a splendid service to the nation not only in the Agriculture sector but in many fields such as Administration, Research, and Marketing & Politics. Current President of Sri Lanka H.E. Maithreepala Sirisena & Secretary to the President Mr P.B. Abeykoon are also distinguished past students of this great institution.
The inventor of H-4 rice variety Dr. Hector Weeraratne, Mr. Norman Gunatilaka who introduced potato cultivation to Sri Lanka, Mr. Ananda Silva the pioneer to introduce Japanese plant Nursery techniques, Mr. Paul Peeris& Mr. S.K. Nawaratne famous rice breeders, Mr. Tom Ellawala the inventor of very popular Tom JC mango variety are some of the distinguish past students of the institutes. Then the yesteryear politicians such as one of the former speakers of the house Mr . R.S. Pelpola , Late Minister P.C . Imbulana, are great past students of Sri Lanka School of Agriculture.
Proposed Centenary postal Stamp will be a tribute to all of them
All rights received. All right to identify the Department of Posts as the Author and designer of this Bulleting has been asserted in accordance with the Copyright, Design and Patents Act 1988.No part to this publication may be reproduced, stored in or introduced into a retrieval system, or transmitted in any form or by and means (electronic, mechanical, photocopying, recording or otherwise) without the prior permission from the publisher. Any person who does and unauthorized act in relation to this publication may be liable to criminal prosecution and civil claims for damages.