B/N 881 - H.R. Jothipala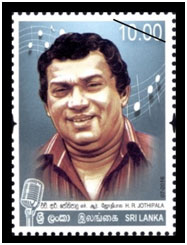 | | |
| --- | --- |
| Date of Issue: | 12th February 2016 |
| Denomination: | Rs.10.00 |
| Catalogue No. | CSL 2148 |
| Stamp Designer: | Mr. Kumudu Tharaka |
| Sheet Composition: | 20 stamps per sheet |
Sri Lanka Philatelic Bureau of the Department of Posts has issued a new postage stamp in the denomination of Rs. 10.00 on 12th February, 2016 to commemorate H. R. Jothipala.
H.R. Jothipala
Hettiarachchige Reginold Jothipala, popularly known as H.R. Jothipala, who made an eternal impact of the taste of Sri Lankan cinema songs in the minds of Sri Lankan song-lovers was born on February 12, 1936 in Colombo:
He had his education at St. Lawrence College, Maradana and St John's College, Dematagoda and in 1952, when he was 16 years old, made the debut in his life of music joining as a helping singer in the song 'Mahavelinadiye' sung by the famous artiste WasanthaSandanayake.
The young Jothipala sang the song 'mage ran rajini' which was a creation of musician Stanley Omar in 1955 and in 1956 became a background singer by singing the highly popular song 'siriya me sara' for the film "Surathali" in 1956 in Madras.
Since then he made a record by adding his voice to more than 550 films as a background singer until 1987 and the last film for which he sang songs was "SupiriBalavata" recorded in 1987 at Lanka Studio in Colombo 05.
In his professional life, Jothipala had the opportunity to work with well-known film Directors such as Dr Lester James Pieris as well as music Directors such as PanditAmaradeva, DrPremasiriKemadasa, SarathDasanayake and versatile lyricists like Arisen Ahubudu.
Jothipala made his contribution to films as an actor also by acting in about 25 films including the film "Sudusandekaluvala" and the film "Athulveematahanam" where he acted the main role which beame a highly popular film at that time. He realized the dream of becoming a film producer also by producing the film "Sumithuro".
Jothipala had a unique voice which made him indispensable in the Sri Lankan cinema for over three decades and the songs rendered by him to Hindi tunes became more popular among the listeners than the original Indian songs and the invaluable contribution he made thereby to the Sinhala cinema and film songs is everlasting.
The solo musical show "JothiRathriya"which was first staged at the Ratnapura New Town Hall on September 06, 1980 went on up to about 225 show thereafter becoming the most popular solo musical show entirely due to his immense popularity.
Already, nearly 100 films have been made using old hits sung by this beloved singer who bid farewell to this word and his fans on July 7, 1987 and if there had been any singer in Sri Lanka who had enjoyed increased popularity even after death, it is none other than H.R. Jothipala.Among the many awards received by this eternal singer are the DeepasikaAward won as the most popular singer of the year in 1972, the Most Popular Singer of the year in 1974 , the Sarasavi Award for the songs 'maejeevanaye' in 1976, 'sarasande' in 1983 and 'palususane' in 1986. After 19 years of his death, he was posthumously honoured with "SarasaviPranama Award" in 2006 in recognition of the incomparable service rendered by him for the progress of the local cinema. After 28 years of his death, he was again honoured with the award of the Most Popular Singer at the 2015 Slim Nielsen Awards Ceremony thus making it an ever memorable event.
All rights received. All right to identify the Department of Posts as the Author and designer of this Bulleting has been asserted in accordance with the Copyright, Design and Patents Act 1988.No part to this publication may be reproduced, stored in or introduced into a retrieval system, or transmitted in any form or by and means (electronic, mechanical, photocopying, recording or otherwise) without the prior permission from the publisher. Any person who does and unauthorized act in relation to this publication may be liable to criminal prosecution and civil claims for damages.