B/N 882 - D. B. Wijetunga Birth Centenary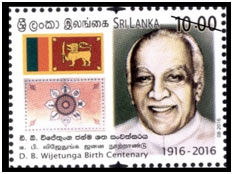 | | |
| --- | --- |
| Date of Issue: | 14th February 2016 |
| Denomination: | Rs.10.00 |
| Catalogue No. | CSL 2149 |
| Stamp Designer: | Mr. Sanath Rohana Wikramasinghe |
| Sheet Composition: | 20 stamps per sheet |
The Philatelic Bureau of the Department of Posts has issued a new postage stamp in the denomination of Rs. 10.00 on 14th February, 2016 to commemorate the birth centenary of the former President, His Excellency the late Hon. D.B.Wijetunga.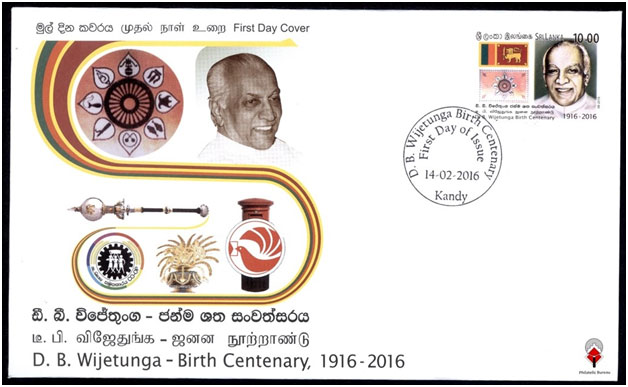 D. B. Wijetunga Birth Centenary
Born on 15th February, 1916, he received his primary education at Weligalla Primary school which was then administered by the Church of Ceylon. For his further studied he got himself enrolled to St. Andrew's College, Gampola and having pursued his studied up to the final class there and obtained a First Class pass in the Junior School Certificate Examination in the English medium. Although he got a scholarship to enter the Trinity College, Kandy, on account of this First Class pass, he could not make use of that opportunity due to personal reasons. However, he was able to pass the London Matriculation and Inter-Arts Examinations on his own as an external student.:
Hon D.B. Wijetunga secured a position as a Co-operative Inspector in the first half of 1940 and having obtained training at Polgolla Co-operative College, served in the Udunuwara and Yatinuwara Divisions and in the Kandy District.
Following are the important mileposts in his career:
1947- appointed as Private Secretary to Minister, A. Ratnayake
1954- Married to Mrs WimalaKumarihamy
1965- Won the Udunuwara seat and entered Parliament
1977- Appointed as Minister of Information and Broadcasting
1978- Minister of Power and Highways
1978- Minister of Posts and Telecommunications
1980- Minister of Power and Energy
1987- Minister of Agriculture Development and Research
1988- Appointed as Governor of the North-Western Province
1989- Minister of Finance
1989- The tenth Prime Minister of Sri Lanka and Minister of Finance
1990- Minister of Labour and Social Welfare in addition to the office of Prime Minister
1991- Minister of Labour and Vocational Training and State Minister of Defence in addition to the office of Prime Minister
1993- Appointed as the third Executive President of Sri Lanka
Hon D.B. Wijetunga represented Sri Lanka at a number of international events as a Minister as well as the Head of State of Sri Lanka.
IIn November, 1994, Hon Wijetunga retired from the office of Presidency and active politics and spent a leisurely life.
On 21st November, 2008 he breathed his last adding his name in history as a politician who had rendered an invaluable service to the development of the country and as an unassuming Head of State.
All rights received. All right to identify the Department of Posts as the Author and designer of this Bulleting has been asserted in accordance with the Copyright, Design and Patents Act 1988.No part to this publication may be reproduced, stored in or introduced into a retrieval system, or transmitted in any form or by and means (electronic, mechanical, photocopying, recording or otherwise) without the prior permission from the publisher. Any person who does and unauthorized act in relation to this publication may be liable to criminal prosecution and civil claims for damages