B/N 890 - State Vesak Festival - 2016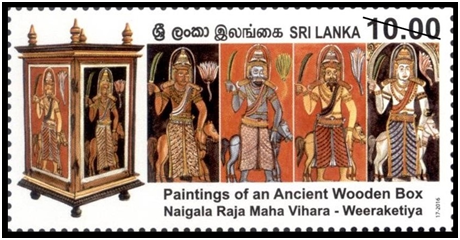 | | |
| --- | --- |
| Date of Issue: | 2016-05-22 |
| Denomination: | Rs.10.00 |
| Catalogue No. | CSL 2162 |
| Sheet Composition: | 20 stamps per sheet |
The Philatelic Bureau of the Department of Posts has issued a new postage stamp on May 22 2016 in the denomination of Rs. 15.00 to commemorate the 2560 state Vesak festival.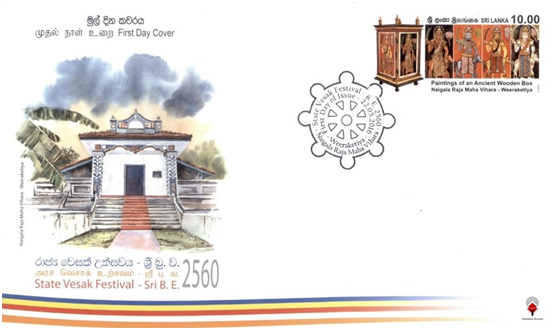 Naigala Rajamaha Vihara at Weeraketiya, where the 2560 state vesak festival will be held belongs to the Anuradhapura period. Established by sub-king Mahanaga in the 3rd century B.C., it had been occupied by arahant bhikkus and at a time the sacred tooth relic too had been kept there.
This historic temple which had existed as a mahavihara for many centuries had been resuscitated again during the Kandyan period in the course of time. At that time several kings such as Kirthi Sri Rajasinha had extended patronage to this temple.
It is believed that in the wooden box depicted in the stamp a statue of pure gold belonging to the Kandyan period had been once deposited. The four Gods of protection, Dratharashta, Virudha, Virupaksha and Vaishravana stand in the outer chamber and painted in the inner chamber are the Buddha statue and the two chief disciples Seriyuth and Mugalan. It is further decorated with other floral designs as well. This is called "Sataravaram Deva Viharaya". 
All rights received. All right to identify the Department of Posts as the Author and designer of this Bulleting has been asserted in accordance with the Copyright, Design and Patents Act 1988.No part to this publication may be reproduced, stored in or introduced into a retrieval system, or transmitted in any form or by and means (electronic, mechanical, photocopying, recording or otherwise) without the prior permission from the publisher. Any person who does and unauthorized act in relation to this publication may be liable to criminal prosecution and civil claims for damages.