B/N 892–Visvalingam Veerasingam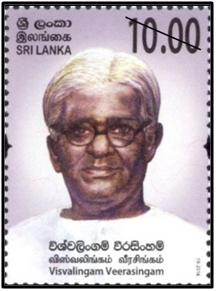 Sri Lanka Philatelic Bureau of the Department of Posts has issued a new postage stamp in the denomination of Rs. 10.00 on 27th May, 2016 to commemorate Mr. V. Veerasingam.
| | |
| --- | --- |
| Date of Issue: | 2016-05-27 |
| Denomination: | Rs.10.00 |
| Catalogue No. | CSL 2164 |
| Sheet Composition: | 20 stamps per sheet |
First Day Cover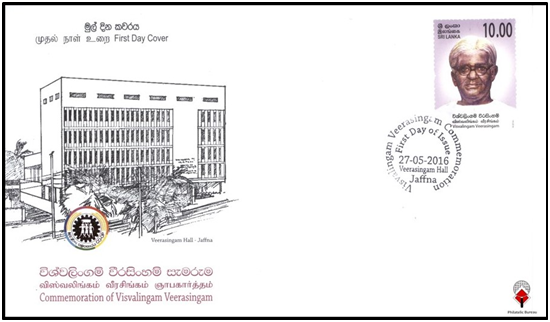 Visvalingam Veerasingam
FATHER OF THE CO-OPERATIVE MOVEMENT IN SRI LANKA
He was born on 07th July 1892 at Manipay in Jaffna. He obtained a B.A. degree from the Ceylon University College. He stared his career as teacher and retired as principal in 1952. He played a key role in the co-operative movement in Sri Lanka. He was the first President of the Co-operative Societies Federation, Jaffna District, a position he held until his death.
He explored the need to establish a national level organization to manage Co-operatives. Looping Contemporaries Island wide, he establish the first national All Ceylon Co-operative Federation in 1955 for which; without race, religion and regional differences he was collectively elected the first president. Today it is called the Sri Lanka National Co-operative Council.
Through his efforts, the first Co-operative hospital in Sri Lanka was establish in 1936 in Moolai in Jaffna. This was a traibalzer to other Co-operative hospitals in Sri Lanka.
He was elected Member of Parliament for Vaddukoddai in 1952 and also made a Member of the Order of the British Empire and Justice of Peace for his compassionate service to empower the poor and the disadvantaged through mutual help.
This Sri Lanka Co-operative community honored him by naming him the 'Father of the Co-operative movement in Sri Lanka 'The late Mr. Edmund Wijesuriya, President of the All Ceylon Co-operative Federation and Member of Parliament for Maskeliya, said that Mr. Veerasingam bridged the North and South through his lofty Co-operative services. Late Professor K. Kailasapathy, Professor in Tamil, University of Jaffna called him a mobile Co-operative university.
A multistoried building 'Veerasingham Hall' in the city of Jaffna, with a public auditorium and office space was built and named in his honor and stands as testimony for this dedication and contribution towards the Co-operative movement.
He passed away on 05th December 1964.
All rights received. All right to identify the Department of Posts as the Author and designer of this Bulleting has been asserted in accordance with the Copyright, Design and Patents Act 1988.No part to this publication may be reproduced, stored in or introduced into a retrieval system, or transmitted in any form or by and means (electronic, mechanical, photocopying, recording or otherwise) without the prior permission from the publisher. Any person who does and unauthorized act in relation to this publication may be liable to criminal prosecution and civil claims for damages.