B/N 893–C. V. Gunaratne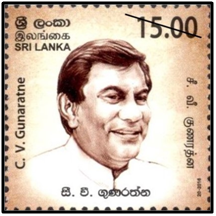 The Philatelic Bureau of the Department of Posts has issued a new postage stamp in the denomination of Rs. 15.00 on 07th June, 2016 to commemorate late Minister Mr. C. V. Gunaratne.
| | |
| --- | --- |
| Date of Issue: | 7th June 2016 |
| Denomination: | Rs.15.00 |
| Catalogue No. | CSL 2165 |
| Sheet Composition: | 20 stamps per sheet |
First Day Cover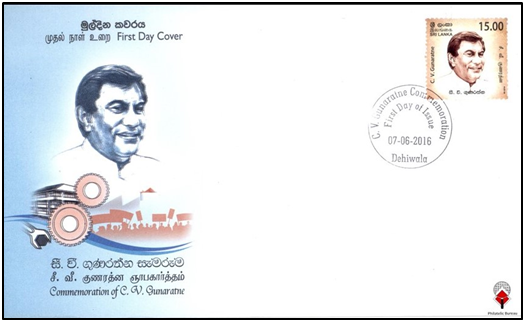 C. V. Gunaratne
I am pleased to contribute a message to the memorial number being published to commemorate late C.V Gooneratne. Being the second son of late Major L.V.Gooneratne he chose to follow in the footsteps of his beloved father who rendered an unparalleled service for the people of Dehiwala - Mount Lavinia. That he is being remembered even after a lapse of fifteen years is indeed a clear testimony to the fact that people are ever grateful to him for the work accomplished by him with a missionary zeal.
I am personally aware of the contribution made by late C.V.Gooneratne as Leader of the Opposition in the Dehiwala - Mount Lavinia Municipal Council, Chief Organizer of Sri Lanka Freedom Party for Ratmalana Electorate for over 25 years, Trade Union leader, member of the party's central committee as well as the Deputy General Secretary of the party. He won the confidence of particularly madam Sirimavo Bandaranaike and was also closely associated with late Anura Bandaranaike. When the party was passing through most difficult periods in its history he took upon himself and faithfully accomplished all changing tasks he was entrusted with by the leadership in order to rebuild the party.
It was after 1989 when he was first elected a member of Parliament closer ties developed between us. Thereupon he became an intimate friend of mine and this friendship continued until his untimely passing away. I still vividly remember how the eloquent voice he raised in both English and Sinhala as a Member of Parliament of the opposition against corruption and violence on the part of the then government resonated in the well of the House of Parliament. The excellent addresses he made in Parliament which was then a training ground for Parliamentarians even today provide materials for the edification of younger generation of politicians.
In fact, he practiced truly honest and principled politics even distributing to the less privileged the proceeds of the sale of properties he inherited from his father and spending such monies on political activities and his conduct is thus an example: worthy of emulation by certain people's representatives today. Late C.V. Gooneratne had cultivated close relationship particularly with the fisherman community and remained a gentleman politician until the time of his passing away.
The contribution made by him as Minister of Industrial Development under the government headed by Madam Chandrika Bandaranaike Kumaratunge in 1994 was commended by all. Of the Industrial Parks constructed on a concept enunciated by him, Seethawaka and Ratmalana Industrial Estates even today contribute in no small measure to the country's economic development. He was firmly determined to develop a National Industrial Policy solely meant for Sri Lanka using his diplomatic skill aimed at attracting foreign investments and providing job opportunities for the youth.
Despite repeated warnings by the former President to her Cabinet colleagues regarding threats to their lives he accompanied his wife and thousands of people made so bold as to walk the street on Heroes' Day on June 07, 2000 and was killed in a ruthless terrorist bomb attack. Even though the war that lasted three decades has ended the name of late C.V. Gooneratne will be written in letters of gold in the roll of National Heroes. He departed this life when foremost men of his caliber are increasingly needed. May he rest in peace.
Maithripala Sirisena
President of the Democratic Socialist Republic of Sri Lanka.
All rights received. All right to identify the Department of Posts as the Author and designer of this Bulleting has been asserted in accordance with the Copyright, Design and Patents Act 1988.No part to this publication may be reproduced, stored in or introduced into a retrieval system, or transmitted in any form or by and means (electronic, mechanical, photocopying, recording or otherwise) without the prior permission from the publisher. Any person who does and unauthorized act in relation to this publication may be liable to criminal prosecution and civil claims for damages.