B/N 895–Chitrasena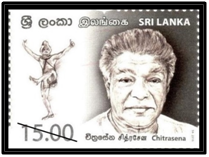 The Sri Lanka Philatelic Bureau of the Department of Posts has issued a new postage stamp in denominations of Rs 15.00 on July 18, 2016 to commemorate the life and legacy of Deshamanya Dr. Chitrasena.
| | |
| --- | --- |
| Date of Issue: | 18th July 2016 |
| Denomination: | Rs.15.00 |
| Catalogue No. | CSL 2167 |
| Sheet Composition: | 20 stamps per sheet |
First Day Cover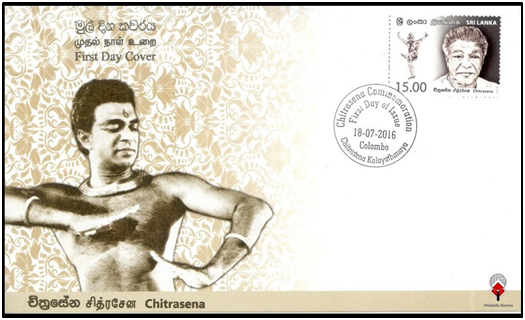 Chitrasena
Born Amaratunga Arachchige Maurice Dias in Kelaniya on January 26, 1921 to well-known actor/producer, the late Seebert Dias and the late Dora Dias, Chitrasena was one of the few 20th Century personalities who made it their mission to resuscitate the traditional arts in Sri Lanka (then Ceylon). He is credited for bringing our traditional dance forms from ritual to the modern stage; for elevating "Traditional Dance" as an authentic Sri Lankan dance-form to national and international audiences; for creating a path for female dancers to play an important role in Kandyan dance, and for creating a whole new genre, the "Sinhala ballet".
In 1934, the visit of Rabindranath Tagore's dance troupe to Sri Lanka inspired the 13-year old Chitrasena to pursue dance. He learnt Kandyan dancing under AlgamaKiriganithayaGurunnanse, MuddanaweAppuwaGurunnanse and BevilgamuweLapayaGurunnanse. At the age of 15, he made his debut performance at the Regal Theatre in 1936 in the dance drama Siri Sangabo, a ballet produced and directed by his father.
Once he was initiated into the art of traditional Kandyan dance, Chitrasena left to India in 1939 to study Kathakali - one of the classical dance forms of India - first under Sri Gopinath, Court Dancer in Travancore and then at the Kerala Kalamandalam. During this period he visited numerous dance centres in India including Udaya Shankar's dance centre in Almora, and others in Assam, Luknow and Lahore. The culmination of his study was in 1945 at Tagore's Shanthinikethan where he became a star pupil performing at the All India Dance Festival as a solo artiste. He also had the honour of playing the leading role in Tagore's dance drama Chandalika opposite Tagore's grand-daughter NandithaKriplani.
In 1943 he founded Sri Lanka's first professional dance company, the Chitrasena Dance Company which became his vehicle for taking forward both traditional dance forms and innovative creations. Soon after he founded Sri Lanka's pioneering school of traditional dance, the ChitrasenaKalayathanaya in 1944. The Kalayathanaya introduced one of the first syllabuses and structured training programme for traditional dancers and has provided the opportunity for generations of aspiring dancers around the country to establish themselves as professional dancers, drummers and choreographers, and represent Sri Lanka as cultural ambassadors globally.
Chitrasena married his star pupil Vajira, Sri Lanka's first prima ballerina in 1951. They are parents to two daughters, Upeka and Anjalika and son, Anudatta.
His contribution to Sri Lankan dance theatre had significant far-reaching impact. With 30 critically acclaimed productions conceived under his watchful gaze and performed locally and at international dance festivals and reputed theatres, he became Sri Lanka's pre-eminent cultural ambassador to the world. Amongst his ground breaking productions were: Karadiya (1961), NalaDamayanthi (1963), Nrithanjali(1965), KinkiniKolama (1978) and Shiva Ranga (1984).
Chitrasena was awarded an Honorary Doctorate from the University of Kelaniya in 1991, the Kala Bushana in 1994, the VishwaPrasadinee in 1996, and the Deshamanya honorific in 1998. He was bestowed with the prestigious Chevalier dansl'Ordre des Arteset des Lettres award by the French government in 2005.
Maestro Chitrasena passed away on July 18th,2005. His legacy continues through the ChitrasenaKalayathanaya and the work of his wife Vajira, daughters: Upeka and Anjalika and grand- daughters: Heshma, Umi and Thaji.
All rights received. All right to identify the Department of Posts as the Author and designer of this Bulleting has been asserted in accordance with the Copyright, Design and Patents Act 1988.No part to this publication may be reproduced, stored in or introduced into a retrieval system, or transmitted in any form or by and means (electronic, mechanical, photocopying, recording or otherwise) without the prior permission from the publisher. Any person who does and unauthorized act in relation to this publication may be liable to criminal prosecution and civil claims for damages.