B/N 896–Games of the XXXI Olympiad Rio - 2016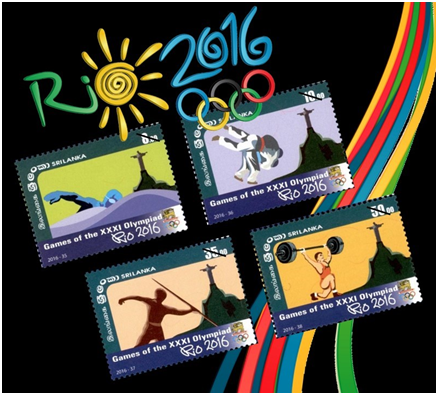 Sri Lanka Philatelic Bureau of the Department of Posts has issued four new commemorative postage stamps in the denominations of Rs.8.00, Rs.10.00, Rs.35.00, and Rs.50.00 on 21st July 2016 to mark the XXXI Olympic Games in Rio de Janeiro Brazil.
Date of Issue:

21st July 2016

Denomination:
Rs.8.00, Rs.10.00, Rs.35.00, Rs.50.00
Catalogue No.

Rs.8.00 - CSL 2168
Rs.10.00 – CSL 2169
Rs.35.00 – CSL 2170
Rs.50.00 – CSL 2171

Stamp Designer.

Mr. Givantha Arthasad


Sheet Composition:

20 stamps per sheet
First Day Cover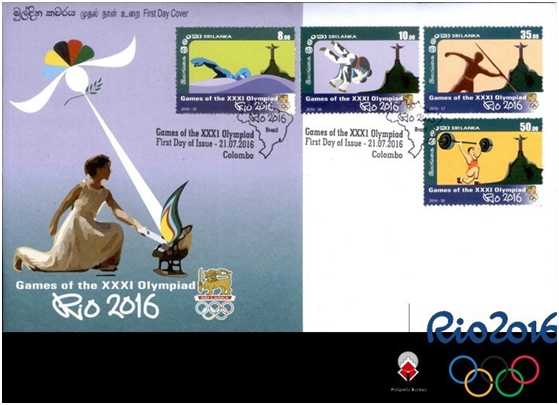 Games of the XXXI Olympiad Rio - 2016
According to historical records, the first ancient Olympic Games can be traced back to 776 BC. They were dedicated to the Olympian gods and were staged on the ancient plains of Olympia. The Modern Olympic Games are held every four years. It is the greatest and biggest game festival which was first held in 1896 with inspiration by Ancient Greek Olympics. The number of countries taking part in the Olympics has seen a considerable increase over the years. The 1896 Olympics attendance wasn't well documented, and records show 241 athletes from 11-16 different countries, participated in 43 events. The last Olympic Games held in 2012 in London saw 204 countries represented with the participation of more than 10,000 athletes. In this long journey United States of America (U.S.A) bagged the highest number of Summer Olympic medals (2399) in 26 games.
The Olympic spirit is best expressed in the Olympic Creed that reads: "The most important thing in the Olympic Games is not to win but to take part, just as the most important thing in life is not the triumph but the struggle. The essential thing is not to have conquered but to have fought well." The creed and motto are meant to inspire the athletes to embrace the Olympics spirit and perform to the best of their abilities.
Sri Lanka (then Ceylon) joined the Olympic movement in the year 1937, and at the London Olympic Games in 1948, Sri Lankan Athlete Duncan White participating in the 400 metre hurdles event won the historic silver medal. SusanthikaJayasinghe, 52 years later made history again winning a silver medal at the Sydney Olympics in the Year 2000.
Games of the XXXI Olympiad 2016, commonly known as Rio Olympics is scheduled to be held in Rio de Janeiro, Brazil, from 5th to 21st August 2016. Rio de Janeiro will become the first South American city to host the Summer Olympics and the first games to be held in a Portuguese-speaking country, also the first to be held entirely during the winter season of the host country.
More than 10,500 athletes from 206 National Olympic Committees (NOCs), including newest members Kosovo and South Sudan, are scheduled to take part in this major multi-sporting event. The next games are planned to be held from 24 July to 9 August 2020 in Tokyo.
Nine Sri Lankan athletes will be taking part in the Rio Olympic Games along with ten officials .
| | | |
| --- | --- | --- |
| Athlete's Name | Disciplines | Event |
| AnuradhaIndrajithCooray | Athletics | Marathon - Men |
| NilukaGeethaniRajasekara | Athletics | Marathon - Women |
| SumedhaJagathRanasinghe | Athletics | Javelin Throw |
| NilukaKarunaratne | Badminton | Singles |
| Anton SudeshPeiris | Weightlifting | 62 kg |
| ChamaraNuwanDharmawardana | Judo | 73 kg |
| Kimiko Shihara Raheem | Swimming | 100 m backstroke |
| Matthew Abeysinghe | Swimming | 100m freestyle |
| MangalaSamarakoon | Shooting | 10m Air rifle, 50 rifle prone |
Souvenir Sheet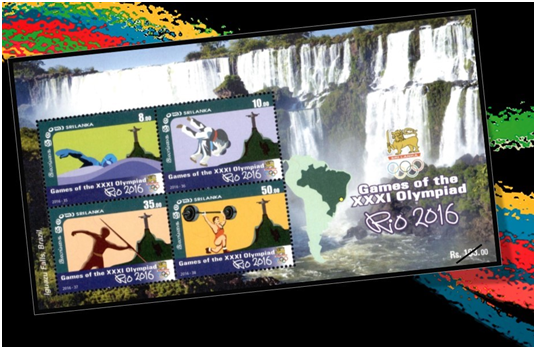 All rights received. All right to identify the Department of Posts as the Author and designer of this Bulleting has been asserted in accordance with the Copyright, Design and Patents Act 1988.No part to this publication may be reproduced, stored in or introduced into a retrieval system, or transmitted in any form or by and means (electronic, mechanical, photocopying, recording or otherwise) without the prior permission from the publisher. Any person who does and unauthorized act in relation to this publication may be liable to criminal prosecution and civil claims for damages.