B/N 898–LAWASIA 2016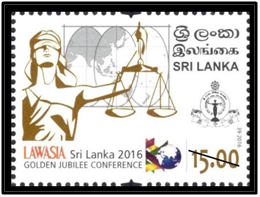 Sri Lanka Philatelic Bureau of the Department of Posts has issued a new Commemorative Stamp in the denomination of Rs. 15.00 on 12th August, 2016 to coincide with the 29th LAWASIA Golden Jubilee Conference which will be held in Sri Lanka.
| | |
| --- | --- |
| Date of Issue: | 12th August 2016 |
| Denomination: | Rs.15.00 |
| Catalogue No. | CSL 2173 |
| Sheet Composition: | 20 stamps per sheet |
First Day Cover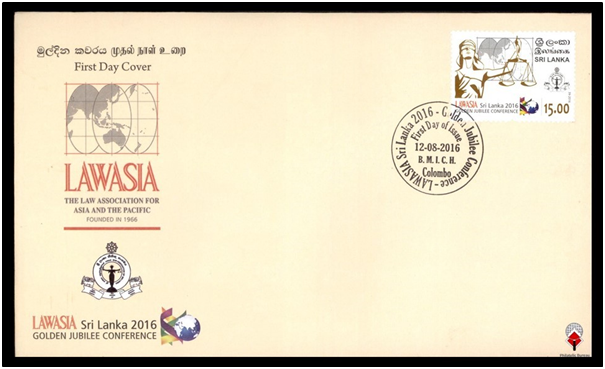 LAWASIA 2016
LAWASIA is an International Organisation which coìists of Lawyers' Associations, Individual Lawyers, Judges, Legal Academics, and others which focuses on interests and concerns of the legal profession in the Asia Pacific region.
LAWASIA facilitates its members' participation in the most dynamic economic regions in the world, since its inception in 1966.
Its mission is to promote universally high standards of legal practice, to be a voice of the legal community of the region, to uphold the rule of law and to protect human rights across a diverse range of socio-political, cultural and economic contexts within region.
The Annual LAWASIA Conference is an International Legal Event that brings together 350 – 400 delegates and other invitees for an invaluable opportunity to share research and information; and to create and strengthen partnerships. This unique event will connect up to 500 leading Law professionals in the Asian and Australasian region.
The LAWASIA Golden Jubilee Conference 2016, which is in the Golden Jubilee Year of LAWASIA will be hosted by Sri Lanka and will be held in Colombo from 12th to 15th August 2016.
His Excellency, the President will be gracing the Conference with the Honourable Prime Minister being present as the Guest of Honour.
All rights received. All right to identify the Department of Posts as the Author and designer of this Bulleting has been asserted in accordance with the Copyright, Design and Patents Act 1988.No part to this publication may be reproduced, stored in or introduced into a retrieval system, or transmitted in any form or by and means (electronic, mechanical, photocopying, recording or otherwise) without the prior permission from the publisher. Any person who does and unauthorized act in relation to this publication may be liable to criminal prosecution and civil claims for damages.