B/N 899–150th Anniversary of Sri Lanka Police Service
Sri Lanka Philatelic Bureau of the Department of Posts has issued a new postage stamp to commemorate the 150th Anniversary of Sri Lanka Police Service in the denomination of Rs. 15.00 on 03rd September, 2016.
| | |
| --- | --- |
| Date of Issue: | 3rd September 2016 |
| Denomination: | Rs.15.00 |
| Catalogue No. | CSL 2174 |
| Sheet Composition: | 20 stamps per sheet |
First Day Cover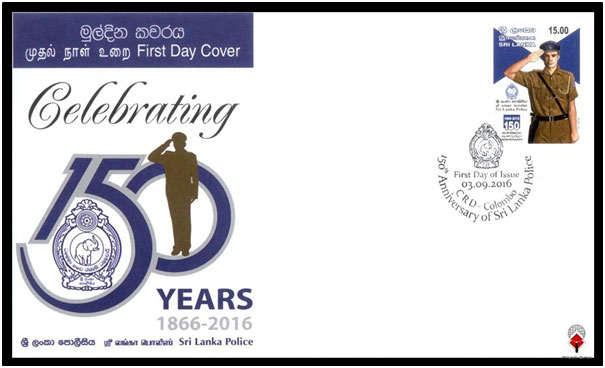 150th Anniversary of Sri Lanka Police Service
Sri Lanka Police marked its inauguration on the 3rd of September 1866 with the appointment of Sir George William Robert Campbell as the Chief Superintendent. Since then the 3rd of September of each year commemorates "Police Day". In 1867, the head of the Police Force was designated as Inspector General of Police (IGP) by an amendment to the Police Ordinance No. 16 of 1865. Sir Richard Aluvihare was appointed as the IGP on the 1st of June 1947 and he became the first Sri Lankan to grace the office.Mr. Pujith Jayasundara is the 34th IGP in this prestigious nomenclature.
Except for the main duties of crime prevention and preserving peace and order in society, the Sri Lanka Police and its Special Task Force (STF) is noticeable for acting as an integral part of national security during the period when LTTE terrorism took hold. Altogether 3,085 police officers had sacrificed their lives making the Police Service renowned for its heroic contribution in assuring unity and integrity of the Sri Lankan nation.
Today Sri Lanka Police is transcending from its standard duties towards a community-oriented service while playing a leading role in environmental conservation and preventing illicit drugs. Police has merged cutting-edge technology to its operations by implementing computerized systems and networking all police stations, establishing crime scene investigation units (SOCO units) under each police divisions and using Automatic Fingerprint Identification System (AFIS) in crime detection and prevention and applying security camera close-up technologies in traffic controlling.
The postage stamp issued to mark its prestigious 150th anniversary of Sri Lanka Police features its dark blue and white flag with its logo. The Police logo was introduced on the 03rd of September 1981 also renaming "Ceylon Police" as "Sri Lanka Police". The logo depicts an elephant encircled by two dragons and a Dharma Chakra (wheel of Dharma) at the top decorated with a traditional Sri Lankan leaf-vine art (liya-wel). Its tagline says "Dhammo hawe rakkhathi dhammachari" in Pali language meaning that one who lives according to dhamma (moral code or good teachings) is protected by Dhamma. The Police Officer portrayed in the front represents the courtesy and the pride of the Sri Lanka Police
All rights received. All right to identify the Department of Posts as the Author and designer of this Bulleting has been asserted in accordance with the Copyright, Design and Patents Act 1988.No part to this publication may be reproduced, stored in or introduced into a retrieval system, or transmitted in any form or by and means (electronic, mechanical, photocopying, recording or otherwise) without the prior permission from the publisher. Any person who does and unauthorized act in relation to this publication may be liable to criminal prosecution and civil claims for damages.