B/N 903–World Post Day 2016

The Philatelic Bureau of the Department of Posts has issuedthree new postage stamps in the denominations of Rs. 5.00, Rs. 10.00 and Rs 15.00 and a souvenir sheet on October 09, 2016 to mark the commemoration of the 142nd World Post Day of 2016.
Date of Issue:
9th October 2016

Denomination:
Rs.5.00, Rs.10.00, Rs.15.00

Catalogue No.

Rs.5.00 - CSL 2189
Rs.10.00 – CLS 2190
Rs.15.00 – CLS 2191


Stamp Designer.
Mr. Ruwan Indrajith Upasena
Sheet Composition:
20 stamps per sheet
First Day Cover
Souvenir Sheet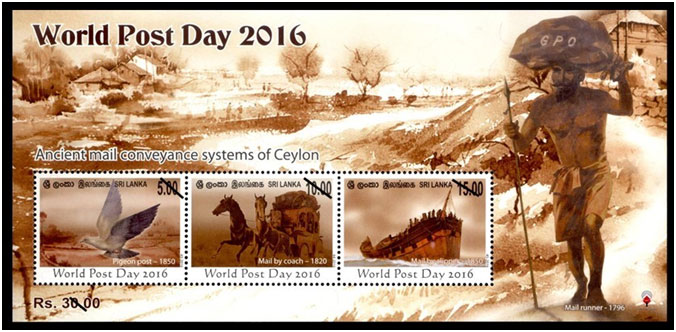 World Post Day 2016
Various methods of mail transport used in Sri Lanka in the past are depicted in these stamps and the souvenir sheet
With the commencement of the postal service various means such as runners horses, birds, horse carriages sailng ships etc carrying mail have been used for postal delivery througout the world.
In the latter half of 17th century when the postal service was started in Sri Lanka, delivery of mail was mainly through runners who used to run on foot carrying mail from one place to another.With the improvement of the postal service, mail transport was done through a sevice of mail runners operated at intervals along the running routes of Colombo-Galle, Colombo-Kandy, Colombo-Trincomalee, Colombo-Jaffna and Colombo-Mannar.
Although it has been reported from various countries in the world that messages were exchanged using birds, in our country the use of birds for mail transport is reported during the period 1850-1858 when letters were exchanged through doves. This method was particularly used for receiving reports and commercial advertisements for the Ceylon Observer and for publishing urgent messages which were delivered at Galle port which was the main port at that time by foreign ships, in the papers on the following day. By this method it was possible to get letters delivered in Colombo by using pigeons, which were kept at the Galle light house in whose legs the letters were tied, which completed the long distance of 75 miles in just 45 minutes. It is reported that it was possible to receive a message sufficient to fill a whole page of the Ceylon Observer through this method.
It was during the British colonial period that the use of horse-d up the carriages was commenced in order to speed up the delivery of mail which was hitherto done efficiently by mail runners. Accordingly, the postal horse-carriage service was started for the first time in Asia in 1832 from Colombo to Kandy. Thereafter it was extended to Colombo-Galle, Colombo-Mannar, Colombo-Trincomalee and Colomo-Jaffna routes as well.It is reported that in addition to mail bags, a passengers tansport service too was operated through this horse-carriage service.
The transport of postal items to foreign countries from this country was done in the past only by sea mail and thus mail bags were transported to various countiries of the world through agreements entered into with the ships which called at ports from the far western countries. In addition to that, mail items brought to Thalaimannar pier were transported to Danushkodi in India by small ships and boats and from there to Madras on land and from there to Europe by sea.
Mail transport activities in Sri Lanka which evolved in this manner became more efficient and speedier with the construction of rail tracks and it was possible to provide a better mail transport service through mobile railway mail compartments. The mobile mail rail compartment service which was started in 1892 will complete 125 years in 2017.
All rights received. All right to identify the Department of Posts as the Author and designer of this Bulleting has been asserted in accordance with the Copyright, Design and Patents Act 1988. No part to this publication may be reproduced, stored in or introduced into a retrieval system, or transmitted in any form or by and means (electronic, mechanical, photocopying, recording or otherwise) without the prior permission from the publisher. Any person who does and unauthorized act in relation to this publication may be liable to criminal prosecution and civil claims for damages.