B/N 904–Dr. A. N. S. Kulasinghe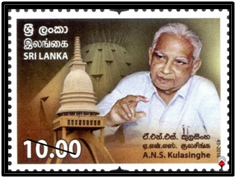 The Philatelic Bureau of the Department of Posts has issueda new postage stamp in the denomination of Rs.10.00 26th October, 2016 to commemorate Dr. A. N. S. Kulasinghe.
| | |
| --- | --- |
| Date of Issue: | 26th October 2016 |
| Denomination: | Rs.10.00 |
| Catalogue No. | CSL 2192 |
| Stamp Designer. | Ms. Wathmi De Soyza |
| Sheet Composition: | 20 stamps per sheet |
First Day Cover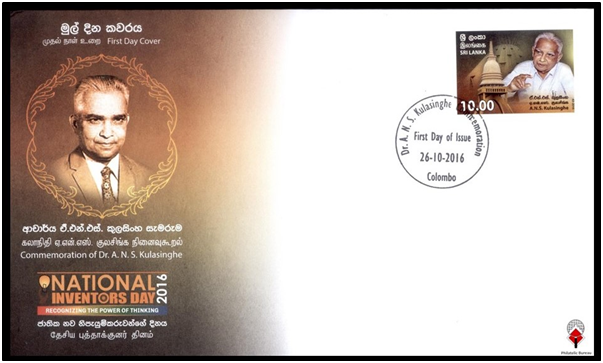 Dr. A. N. S. Kulasinghe
Born on October 26, 1919, at Udammita, Ja-Ela, late Deshabandu Vidyajothi Eng. Dr. A.N.S. Kulasinghe had his early education at Maris Stella College, Negombo and at St. Benedict's College, Kotahena. Dr.Kulasinghe who started his career as an apprentice later rose to become one of the best engineers our country has ever produced.
Joining the Colombo Port Commission in 1944 and obtaining the AMICE in 1946 and in 1957 the Degree in B.Sc. Engineering (London), he rose to become its Commissioner in 1968.
The invention of the "Kulasinghe – CPC" method of pre-stressing concrete was his most outstanding contribution to the field of structural engineering. In 1960, he was awarded the Institution of Engineers, India's President's Prize for best invention.
As the founder Chairman of the State Engineering Corporation, he was the inspiration behind many iconic structures and buildings. The KalutaraChaithyaya, Colombo Port Chaithyaya, Colombo Planetarium, MahaweliMaha Seya being some among many other building complexes. He was the President of the Institution of Engineers, Sri Lanka in 1969. The University of Moratuwa in 1979 conferred the Doctor of Science and in 2000 the Open University of Sri Lanka conferred on him the Doctor of Engineering degree. He was the first Commissioner of the Sri Lanka Inventors Commission.
After serving Sri Lanka for over five decades, this pioneering engineer, and one of the best researchers Sri Lanka has had so far, passed away on February 14, 2006 at the age of 87.
All rights received. All right to identify the Department of Posts as the Author and designer of this Bulleting has been asserted in accordance with the Copyright, Design and Patents Act 1988.No part to this publication may be reproduced, stored in or introduced into a retrieval system, or transmitted in any form or by and means (electronic, mechanical, photocopying, recording or otherwise) without the prior permission from the publisher. Any person who does and unauthorized act in relation to this publication may be liable to criminal prosecution and civil claims for damages.