B/N 906–Unseen Sri Lanka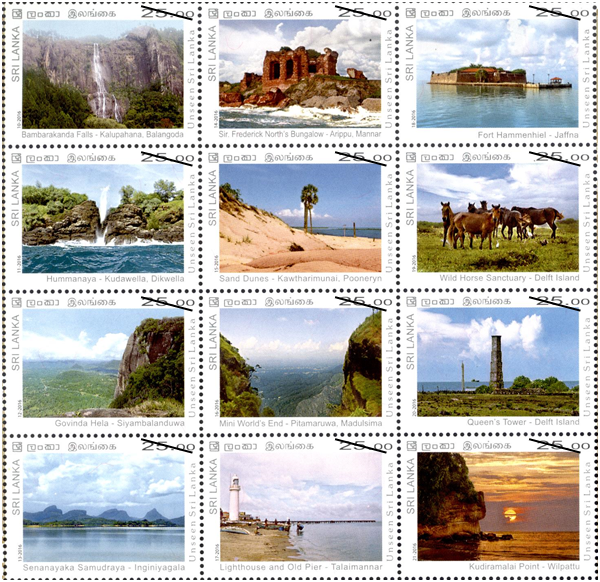 Sri Lanka Philatelic Bureau of the Department of Posts has issued12 new postal stamps in the denomination of Rs. 25.00 each depicting 12 unseen places of natural beauty in Sri Lanka and 03 souvenir sheets on December 02, 2016.
| | |
| --- | --- |
| Date of Issue: | 02nd December 2016 |
| Denomination: | Rs.25.00 |
| Catalogue No. | 01) Bambarakanda Falls - CSL 2194 02) Sir. Frederick North's Bungalow – CSL 2195 03) Hammen Hill Fort – CSL 2196 04) Hummanaya – CSL 2197 05) Sand Dunes of Poonerin – CSL 2198 06) Wild horse reserve of the Delft Island – CSL 2199 07) Govinda Hela (Westminister Abbey) - CSL 2160 08) Mini World's End (Madulsima) – CSL 2161 09) Queen's Tower – CSL 2162 10) SenanayakeSamudra – CSL 2163 11) Talaimannar Light House and the Old Jetty – CSL 2164 12) Kudiramalai Point- CSL 2165 |
| Stamp Designer. | Mr.Sudath Jayawardhana |
| Sheet Composition: | 20 stamps per sheet |
First Day Cover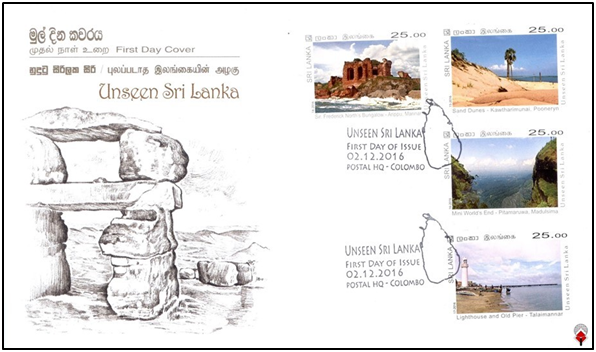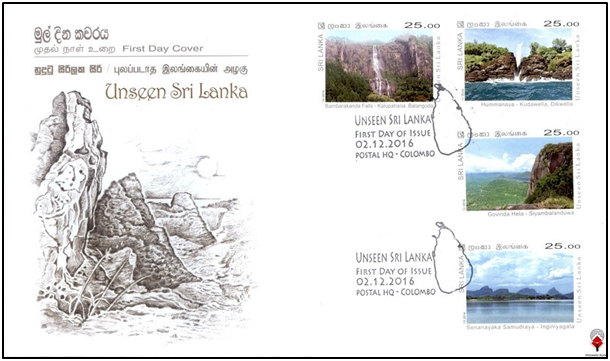 1. Bambarakanda falls.
Also known as Bambarakele falls, this is the highest water fall in Sri Lanka. Its height is 263 meters. It is situated in the Haldummulla area in the Badulla district and can be reached after travelling for about 5 km. from the Kalupahana junction on A 4 highway. It is an estuary of Walawe river.
2. Sir Fredrick North Bungalow.
This is known as the Dorick Building as it is built using the dorick columns belonging to the Greek tradition. Fredrick North (1798 – 1805 AD) the first English Governor used to stay in this building on his visits to Mannar to supervise pearle fishing activities in the Mannar area. Built in 1802 it had for small bed rooms on the ground floor and today only 02 rooms can be identified clearly. In the centre of the building there is a flight of steps leading up to the upper floor and the rear portion of the building is totally collapsed into the sea. The building had been built with bricks and lime plastered. All doors and windows are built with arches. This place is situated in the Arippu East GN division ofMusali Divisional Secretariat Division. This site which is situatied on the left of the road can be reached by travelling about 12 km. on Silawathura road from Murunkan junction on A 14 road and from there by travelling about 2.5 km. on Silawathura – Arippu road.
3. Hammen Hill Fort
A fort built in a small island surrounded by Kytes and Karativu islands in the Jaffna peninsula. It was constructed by the Portugues in the middle of the 17th century. Named by the Portugues as FortalegaReal (Fort Royal), it was re-built by the Dutch in 1680 and named as Hammenheil (Heal of Ham). Today, it has been converted to a tourist hotel.
4. Hummanaya
Hummanaya or the blow hole is the only creation of its kind and it is the second largest creation of that nature in the world. The 'hoo' sound made by it has given its name 'hummanaya'.
The scene created by the upward ejection of a jet of water through a small crevice in a large rock caused by fast sea waves makes a beautiful sight. On occasions when the sea is rough the jet of water rises up to 25-30 meters into the sky. Hummanaya is situated about 2 km turning off at Kudawella junction from a distance of about 180 km. on A 2 road.
5. Sand dunes of Poonerin.
These sand dunes can be seen after travelling towards Kawtharimunai from Poonerin in the Poonerin Peninsula. The distance from Colombo to reach this site is about 370 km.
6. Wild horse reserve of the Delft Island.
It is believed that there are around 450 wild horses on the Delft Island. It is reported that there was a much higher population of horses in the past and it began to decline gradually after the advent of the Portuguese.
7. Govinda Hela (Westminster Abbey)
Govinda Hela can be reached after travelling along A 25 road from Siyambalanduwaand proceeding on A 4 road. The distance from Colombo to this site is about 310 km. There is evidence to the effect that it was a fortress during the Yapahuwa Kingdom in the 13th century. On the Northern slope of the rock there are a number of caves with and without early Brahmi inscriptions and ruins of several buildings belonging to abodes of monks scattered over a large area. There is a flat land of over five acres on the summit of the rock and it is possible to see a beautifully carved moonstone along with another moonstone without carvings and also two ponds carved with efforts out of the rock itself in this area.
8. Mini World's End (Madulsima)
Situated about 180 km. away from Colombo this site can be reached by travelling along Pitamaruwa Road off Passara town. Second only to the World's End on the Horton Plains, it is 1257 feet deep. Uma Oya and Bambarabotuwa and Kekunagalawater falls are seen beautifully from the summit of this.
9. Queen's Tower
Situated in Alamanawam area in the Delft island,this is considered to be a Light House tower built by the Dutch. It is over 50 feet in height and constructed in a square shape consisting of five floors which become smaller as it goes high. There is an arch-shaped gate towards north-south in the lower part. Blocks of cut lime stones have been used for its construction.
10. Senanayake Samudra
Senanayake Samudra is constructed by building a dam across Gal Oya connecting Inginiyagala mountains. It was built during 1949 – 53. With a capacity for collecting 770,000 acre feet (cubic meter 9.5 x 108) of water, its catchment area is 384 square miles. Water is distributed by it for cultivation of over 110,000 acres of land. The extent of water is 91 square kilo metres.
11. Talaimannar Light House and the Old Jetty
The light house near the Talaimananr old Jetty was built in 1915. Its height is 19 metres. It is situated in the Old Pier village in the Mannar Town Divisional Secretariat Division. This site can be reached by coming to Mannar town on A 14 road from Colombo Via Medawachchiya and from there travelling along Mannar – Talaimnannar road for 28 km. and turning left 1.5 km. towards the beach and walking about 600 metres along the beach. Today, twelve iron pillars of the jetty which is built in a north – south direction to the sea from the land can be seen. The jetty is built on two parallel pillars and the circumference of a pillar is about 1.5 m. and height about 2.2. m. The space between two pillars is 5.8 m. and the width of the jetty is 7.8 m. This jetty is more them 100 years old with many parts of it being corroded due to sea water and wind.
12. Kudiramalai Point
Kudiramalai is situated as a point in the upper boundary of Puttlam district about 200 km. away from Colombo. Situated at the west end of the Vilpattu National forest park, it has a number of historical values. It is considered that this is the site where prince Vijaya and his retinue landed in 543 BC. The finds of pottery fragments, bricks etc. confirm that this area had been a human settlement since around the Mesolithic period.
Souvenir Sheets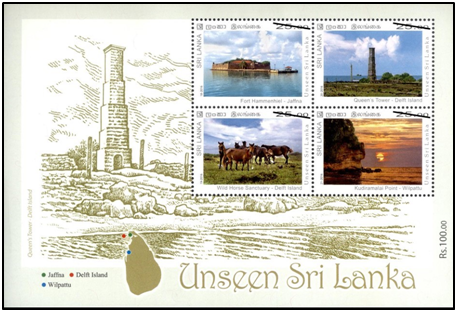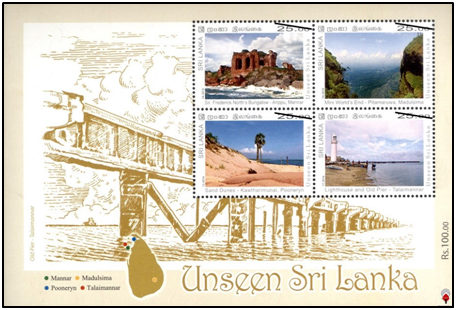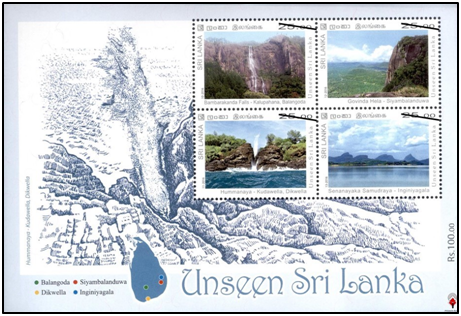 All rights received. All right to identify the Department of Posts as the Author and designer of this Bulleting has been asserted in accordance with the Copyright, Design and Patents Act 1988.No part to this publication may be reproduced, stored in or introduced into a retrieval system, or transmitted in any form or by and means (electronic, mechanical, photocopying, recording or otherwise) without the prior permission from the publisher. Any person who does and unauthorized act in relation to this publication may be liable to criminal prosecution and civil claims for damages.