B/N 907–Christmas 2016

Sri Lanka Philatelic Bureau of the Department of Posts has issuedtwo new postage stamps in the denomination of Rs. 10.00 and Rs. 35.00 and a Souvenir Sheet on 04th December 2016 to celebrate Christmas 2016.
Date of Issue:
4th December 2016
Denomination:
Rs.10.00, Rs.35.00
Stamp Art by:
Rs.10.00 – Dilini Charuka Sirisoma
Rs.35.00 – Isuru Sadara Mirando
Souvenir Sheet Art by :
Amandi Praveena Sirimani

Stamp/Souvenir Sheet/ First day cover Designer:
Mr. P. Isuru Chathuranga
Catalogue No.
Rs.10.00 - CSL 2206
Rs.35.00 – CSL 2207
Sheet Composition:
20 stamps per sheet
First Day Cover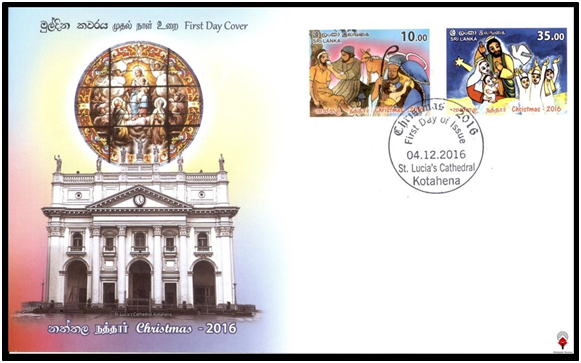 Christmas 2016
The Word becoming flesh or the Son of Almighty God being conceived in the womb of Mother Mary and being born to this world in the form of a human is celebrated as Christmas by Christians all over the world. Christmas brought the message of peace to the world. Glory to heaven and peace to the people on earth was the first Christmas greeting. Peace is born as a result of human compassion within the hearts of people. The life of Jesus Christ who took the form of a human is a profile of love and human compassion. Humanity is the supreme symbol of such kind and benevolent people. The theme "Make way to the freshness to humanity that the birth of Christ heralds" was selected to create these stamps taking in to consideration the quality of humanity which is celebrated each year during Christmas.
(Department of Christian Religious Affairs)
Souvenir Sheet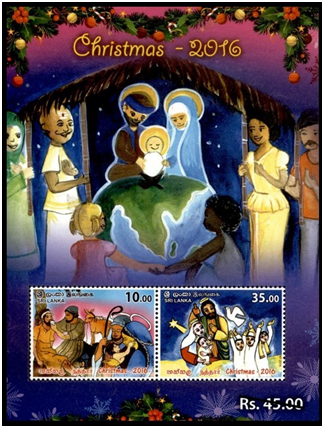 All rights received. All right to identify the Department of Posts as the Author and designer of this Bulleting has been asserted in accordance with the Copyright, Design and Patents Act 1988.No part to this publication may be reproduced, stored in or introduced into a retrieval system, or transmitted in any form or by and means (electronic, mechanical, photocopying, recording or otherwise) without the prior permission from the publisher. Any person who does and unauthorized act in relation to this publication may be liable to criminal prosecution and civil claims for damages.