B/N 909–National Meelad-Un-Nabi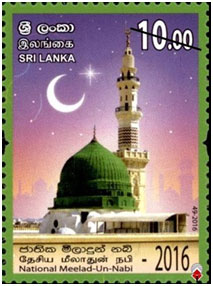 The Sri Lanka Philatelic Bureau of the Department of Posts has issued a new postal stamp on 12th of December 2016, in the denomination of Rs. 10, to celebrate the National Milad-un-Nabi Festival.
Date of Issue:
12th December 2016
Denomination:
Rs.10.00
Stamp Designer
Mr. P.Isuru Chathuranga
Catalogue No.
CSL 2209
Sheet Composition:
20 stamps per sheet
First Day Cover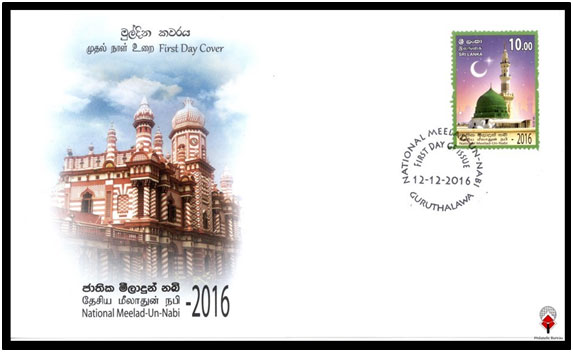 National Meelad-Un-Nabi
The Holy Muhammad Nabi (sal) was born on the 12th day of the month of Rabi' al-awwal, in Mecca. Before the birth of Mohammad Nabi, his father Abdullah had passed away. His mother too died at his young age. After their death, Mohammad came under the care of his paternal grandfather Abdul-Muttalib and one of his uncles, Abu Talib.
The first revelation of God Allah was received by Muhammad through Jibril or Gabriel when he was during one of his retreats at Mount Hira in Mecca. Then Muhammad Nabi was 40 years old.
People in Mecca respected Muhammad even before he was considered the messenger of Allah. But, of them, only a few turned to Islam. Therefore Muhammad left Mecca and went to Medina, as it was commanded to him by Allah. The people in Medina welcomed him and embraced Islam, a deed which greatly helped the spread of Islamism. Muhammad's journey from Mecca to Medina is called Hijrah. The Holy Quran, which is believed the revelation from God, was revealed in 23 years. Prophet Muhammad died at the age of 63.
The National Milad-un-Nabi Festival is celebrated in Sri Lanka on the 12th day of Rabi' al-awwal since 1982, the year in which the Muslim Religious and Cultural Department was established. The date of birth of Prophet Muhammad Nabi, who guided the Muslims world over in the right spiritual path, has been named a National holiday by the Sri Lankan government..
All rights received. All right to identify the Department of Posts as the Author and designer of this Bulleting has been asserted in accordance with the Copyright, Design and Patents Act 1988.No part to this publication may be reproduced, stored in or introduced into a retrieval system, or transmitted in any form or by and means (electronic, mechanical, photocopying, recording or otherwise) without the prior permission from the publisher. Any person who does and unauthorized act in relation to this publication may be liable to criminal prosecution and civil claims for damages.