B/N 912–Centenary of VisakhaVidyalaya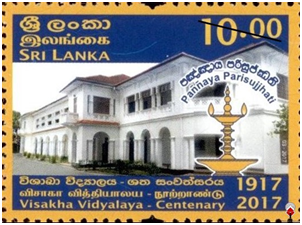 The Sri Lanka Philatelic Bureau of the Department of Posts has issued a new postal stamp to commemorate the Centenary of VisakhaVidyalaya in the denomination of Rs.10.00 on 16th January 2017.
Date of Issue:
16th January 2017
Denomination:
Rs.10.00
Stamp Designer

Mr. Sanath Rohana Wickramasinghe

Catalogue No.
CSL 2212
Sheet Composition:
20 stamps per sheet
First Day Cover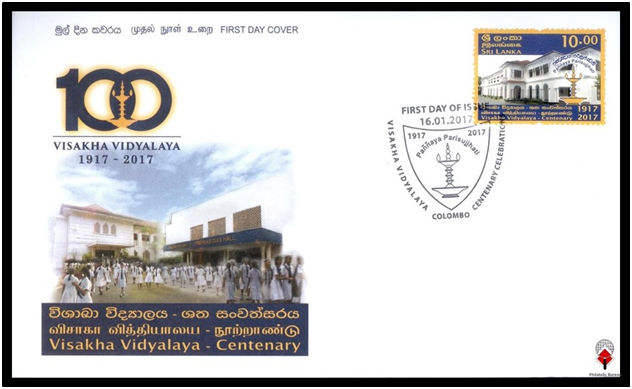 Centenary of VisakhaVidyalaya
The Buddhist Girls' School was established on 16th January 1917, by Mrs. Jeramias Dias, a great benevolent lady philanthropist from Panadura.
The same year, it was registered as a school operating on a trust fund and donations. In 1923, it was honoured for establishing the first ever Girl Guide Pack in a school in Colombo. In 1927, the Buddhist Girls' School was re-named VisakhaVidyalaya, after VisakhaMahaUpasikawa, the most exemplary lady disciple of Lord Buddha.
From the inception and to date, every year VisakhaVidyalaya has consistently maintained the record as being the most outstanding girls' school producing great and unprecedented results in the field of academics making VisakhaVidyalaya the most prominent girls' educational institute in the island.
The VisakhaBodhiya a virtual treasure, unique to Visakhians is an effective catalyst in moulding virtuous, spiritual Visakhians.
VisakhaVidyalaya, celebrates her centenary anniversary and is endowed to mother Lanka to produce Buddhist ladies capable of facing the challenges and vicissitudes of life.
All rights received. All right to identify the Department of Posts as the Author and designer of this Bulleting has been asserted in accordance with the Copyright, Design and Patents Act 1988.No part to this publication may be reproduced, stored in or introduced into a retrieval system, or transmitted in any form or by and means (electronic, mechanical, photocopying, recording or otherwise) without the prior permission from the publisher. Any person who does and unauthorized act in relation to this publication may be liable to criminal prosecution and civil claims for damages.