B/N 922 – 150 Years of Ceylon Tea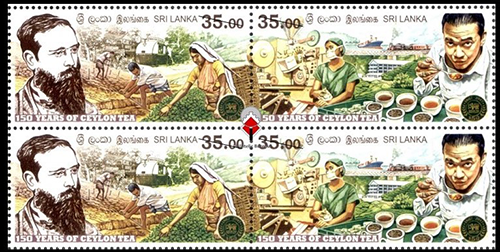 The Philatelic Bureau of the Department of Posts has issued two new postage stamp in the denomination of Rs. 35.00 and a souvenir sheet on July 13, 2017 to commemorate 150 Years of Ceylon Tea.
Date of Issue:

13th July 2017

Denomination:
Rs.35.00 * 2
Stamp designer:
Mr. D.G Sudath Jayawardena
Catalogue No.

Rs.35.00 – CSL2246
Rs.35.00 – CSL2247

Stamp Size :
60mm x30mm

Sheet Composition:
20 stamps per sheet
First Day Cover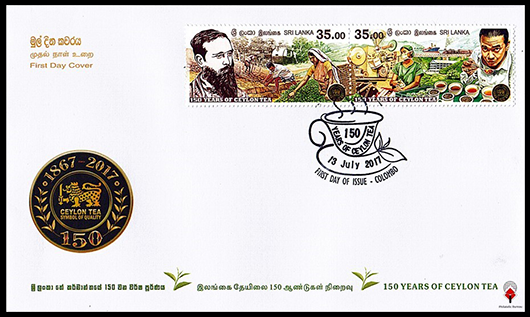 Souvenir Sheet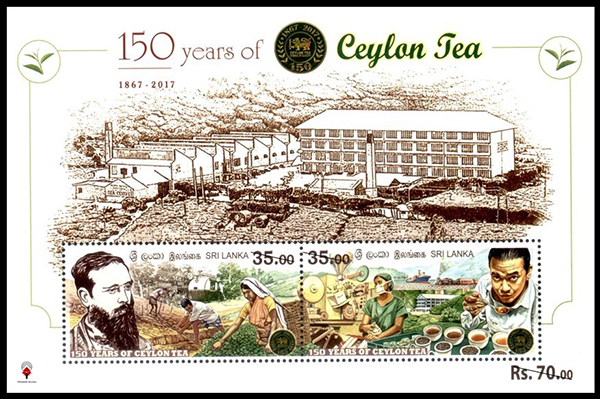 150 Years of Ceylon Tea
The commercial cultivation of CEYLON TEA, the pride of Sri Lanka and its best-known international Brand, commenced in 1867. Pioneered by a redoubtable Scotsman, James Taylor, on Loolecondera Estate in Hewahetta, in the Kandy District, it developed into, perhaps, the most important Industry of our island, over the ensuing 150 years. He was followed by others of that ilk, who not only contributed towards the expansion of this agricultural enterprise, but also helped create the complementary infrastructure, which continues to facilitate the supply chain of this great Industry.
Tea eventually supplanted Coffee, which, till then, was the country's main cash crop, but shortly thereafter devastated by a ravaging plant blight.
For over one hundred years, the Tea Industry sustained the economy of this country and continues to contribute significantly to it. Though, currently, eclipsed by one or two other revenue earning sources, which have emerged in more recent years, it is still one of the highest foreign exchange earners for the country, exceeding US Dollars 1.5 billion per annum. This accounts for 15% of the nation's foreign exchange earnings and generating 65% of export agriculture revenue.
The Tea Industry also supports approximately 20 percent of the country's population, through direct and indirect employment, out-sourcing and dependent families, which extends to a number of ancillary industries, such as shipping, transportation, printing, packaging, etc.
Sri Lanka, a small island, though minuscule in size compared to the other major tea producers in the world, accounts for the fourth largest volume of tea produced globally. Its annual tea production is approx. 340 million kgs, which is about 7% of the global tea production. Sri Lanka exports most of its tea, making it the world's third largest exporter of tea. The annual tea export volume of Sri Lanka is 320 million Kgs, which is 17% of the total tea export market. Over the years, by supplying a wide spectrum of markets, Ceylon Tea, has successfully catered to the diverse preferences of over 130 tea consumer countries around the world.
The forte of Ceylon Tea lies not merely in the volume of production, but also in its superior quality and flavour. Tea thrives on undulating terrain and is grown in Sri Lanka in the central highlands and its southern foothills, at different elevations.
The range of teas produced in Sri Lanka is distinguished by the particle size of its dry leaf, from the smallest, appropriately called "Dust", to the long twisted leaf Orange Pekoes, and by the character of its infused brew, from a light, fragrant beverage to those with strength, flavour and colour. Most of the tea brands and blends marketed internationally have been enriched by the inclusion of a percentage of Ceylon Tea, the main attributes of which are a rich mellow taste, a strong invigorating brew, a pleasant natural aroma and a sparkling golden colour. It is these unique characteristics of fine Ceylon Tea that has created its world wide popularity.
Much of the black tea produced in Sri Lanka is manufactured by orthodox process, of which it is the largest supplier in the world. The green leaf is predominantly manually plucked off the tea bushes, ensuring that only the unopened bud and the two tender leaves nearest to it are selected, so as to guarantee the quality and refinement of the end product. In addition, Sri Lanka produces CTC (cut, tear and curl) varieties, Green tea, instant tea and organic teas in small volumes.
The uniqueness of its diversity, created by an infinite combination of factors, such as altitude, soil, vagaries and varieties of climatic conditions, a multiplicity of cultivars and different manufacturing processes, acquired through specialized knowledge accumulated over a period of 150 years, in accordance with a combination of Industry devised conventions and conclusions drawn from scientific research, makes Ceylon Tea a truly speciality product. Each of its seven major agro-climatic regions, namely, Nuwara Eliya, Dimbula, Uda Pussellawa, Uva, Kandy, Ruhuna and Sabaragamuwa, as well as its 38 sub-regions, have distinctly and discernibly different characteristics, enhanced by special manufacturing processes adapted to complement the conditions in the respective tea growing regions, which give consumers a choice of teas that no other origin can provide.
All rights received. All right to identify the Department of Posts as the Author and designer of this Bulleting has been asserted in accordance with the Copyright, Design and Patents Act 1988.No part to this publication may be reproduced, stored in or introduced into a retrieval system, or transmitted in any form or by and means (electronic, mechanical, photocopying, recording or otherwise) without the prior permission from the publisher. Any person who does and unauthorized act in relation to this publication may be liable to criminal prosecution and civil claims for damages.