B/N 923 – Ven. BoosseDhammarakkhithaThero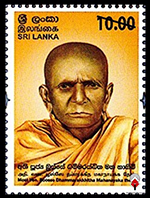 The Philatelic Bureau of the Department of Posts has issuednew postage stamp in the denomination of Rs.10.00to commemorate the most Ven.Boosse Dhammarakkhitha Thero
| | |
| --- | --- |
| Date of Issue: | 3rd August 2017 |
| Denomination: | Rs. 10.00 each |
| Stamp Designer : | Mr. P. Isuru Chaturanga |
| Stamp Size : | 30mm x 41mm |
| Catalogue No : | Rs.10.00 – CSL2248 |
| Sheet Composition: | 20 stamps per sheet |
First Day Cover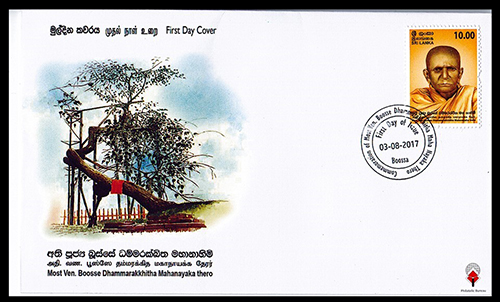 Ven. BoosseDhammarakkhithaThero
Vadibhasinha most Ven. BoosseDhammarakkhithathero was born on 17th July, 1890 in the village Boossa in the Hikkaduwa Divisional Secretariat Division of the Galle province in southern Sri Lanka. ThirimaduraSiyappumahaupasaka and ManikkuwaduraEsohamyupasikawere his beloved parents. This boy named ThirimaduraThiyappu, received his primary education at Boossa Catholic school. On 12th July, 1906 he entered the Buddha sasana as a monk under the pupilage of most Ven. Boosse Siri SaddhatissaMahaNayakaThero, at Sri Sudarshanarama temple, under the name BoosseDhammarakkhitha. He completed his dhamma education at SaddharmakaraPirivena, Pinwattaand MaligakandaVidyodayaPirivena, Colombo.
He received the higher ordination at the GintotaUdakukkhepaSimaMalaka on 3rd June, 1911 and being an erudite preacher of the dhamma, conducteddhamma sermons throughout the country. In 1927, eighty six years ago, he went to the Raja Rata and took up residence at the NivattakaCethiya temple, at Tholuwila, Anuradhapura and rendered a great service to the sasana by causing the entry of young children into the sasana as monks and extending assistance for the development of irrigation works, roads, temples and village development activities in the North Central province.
In 1928 he was successful in bringing a person who had caused some damage to the Sri Maha Bodhi of Anuradhapura, before the law. Had it not been for that brave act he did at the risk of his own life for the protection of the nation and the Buddha sasana, today we would not have been able to worship this sacred Jaya Sri Maha Bodhi.
Ven Dhammarakkhitha thero, who can also be introduced as an educationist, helped the children of Rajarata light the lamp of knowledge by working as a teacher in schools like Anu/Nivattakacethiya Maha Vidyalaya, Anu/Thalawa Kanishta Vidyalaya, Anu/DiyamailagasWeva Kanishta Vidyalaya and Anu/Pubuduwila Kanishta Vidyalaya. Apart from that, he made his contributions to the freedom struggle of Sri Lanka as well working shoulder to shoulder with national leaders who pioneered the independence struggle such as MrF.R.Senanayake, Sir D.B.Jayathilake, labour leader, MrA.E.Gunasinghe, VenAnagarikaDharmapala, AnagarikaWalisingheHarischandra etc. Having been appointed to the office of the new MahaNayaka of the AmarapuraNilaya of the Dambulla sector subsequently, the most VenBoosseDhammarakkhithaMahaNayakathero rendered a yeoman service to the Buddha sasana and the nation and passed away on 28th August, 1982.
All rights received. All right to identify the Department of Posts as the Author and designer of this Bulleting has been asserted in accordance with the Copyright, Design and Patents Act 1988.No part to this publication may be reproduced, stored in or introduced into a retrieval system, or transmitted in any form or by and means (electronic, mechanical, photocopying, recording or otherwise) without the prior permission from the publisher. Any person who does and unauthorized act in relation to this publication may be liable to criminal prosecution and civil claims for damages.