B/N 925 – World Children's Day 2017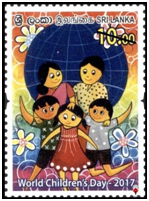 Sri Lanka Philatelic Bureau of the department of Posts has issued a new postage stamp in the denomination of Rs.10.00 to commemorate the World Children's Day 2017 on 1st October 2017.
Date of Issue:
1st October 2017
Denomination:
Rs.10.00
StampDesigner:
Mr. P. Isuru Chathuranga
First Day Cover by :
J.K YasasiHansina

Catalogue No.
Rs.10.00 – CSL2252
Stamp Size :
30mm x 41mm

Sheet Composition:
20 stamps per sheet
First Day Cover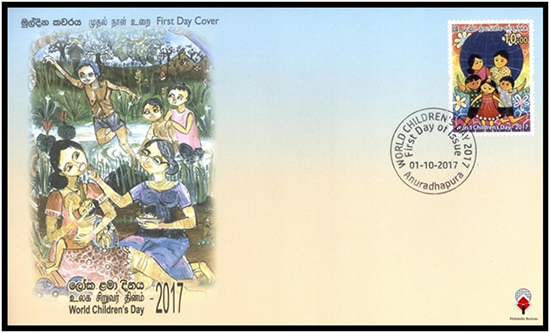 World Children's Day - 2017
The theme of this year children's day is "Lead children to their wonder – along the path of love and affection". The focus for this year would be on ending violence against children.
Agenda 2030 calls for all countries and all stakeholders to come together in a collaborative partnership to deliver sustainable development to all especially the most vulnerable.
The theme of ending violence against children will be addressed by building political will to achieve the SDG's, working together with partners to accelerate action to tackle violence that children face, and strengthening collaboration with civil society and other stakeholder towards achieving the end of violence goal.
The seven strategies for ending violence against children will be implementation and enforcement of laws; Norms and values; Safe environments; Parent and caregiver support, income and economic strengthening; Response and support services; Education and life skills.
This stamp was developed to reflect the vision of the Global Partnership to End Violence Against children a world in which every child grows up free form violence.
All rights received. All right to identify the Department of Posts as the Author and designer of this Bulleting has been asserted in accordance with the Copyright, Design and Patents Act 1988.No part to this publication may be reproduced, stored in or introduced into a retrieval system, or transmitted in any form or by and means (electronic, mechanical, photocopying, recording or otherwise) without the prior permission from the publisher. Any person who does and unauthorized act in relation to this publication may be liable to criminal prosecution and civil claims for damages.