B/N 927 – Colombo Fort Railway Station Centenary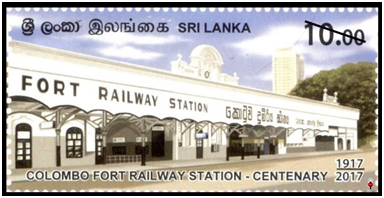 Sri Lanka Philatelic Bureau of the department of Posts has issued a new postage stamp in the denomination of Rs.10.00 to commemorate the Colombo Fort Railway Station Centenary.
Date of Issue:
4th October 2017
Denomination:
Rs.10.00

StampDesigner:

Mr.Venura Bertholameusz

Catalogue No.
Rs.10.00 – CSL2254

Stamp Size :
60mm x 30mm

Sheet Composition:
20 stamps per sheet
First Day Cover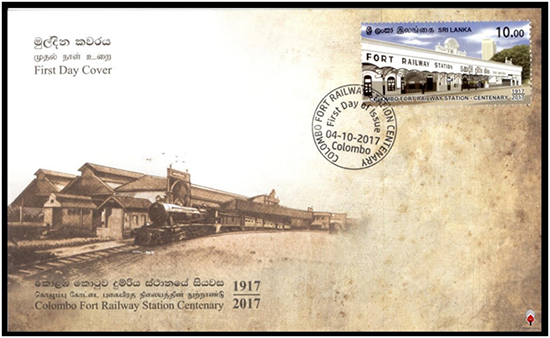 Colombo Fort Railway Station Centenary
After the first sod of earth was cut at the auspicious time by Governor Sir Henry Ward for the construction of the railway line, the first railway journey took place in 1864 from Colombo to Ambepussa for the purpose of transporting plantation crops to Colombo. From then onwards the railway road network expanded gradually and with the opening of the coastal railway line in 1887, two railway stations were established at Fort and Pettah on either side of the present Fort Railway Station.
The small railway station which was known as the Fort Railway Station was shifted to a more convenient place in 1883. That place was where Lotus Road, at which the Lotus siding was situated at that time, met OlcottMawatha. Thus, the present Colombo Fort Railway was established on a block of land where the then Beira Lake was situated opposite that siding. Although its construction work was commenced in 1905 and completed in 1911, as the work on the line between Maradana and Fort had not been completed and since it was used as a food store during the First World War, it was not able to open it until 1917. Subsequently it was opened in 1917 by the then Governor of Ceylon, John Anderson and Mr G.P. Grin who was the General Manager of Railways at that time. Its first Station Master was Mr A.F. Gunawardane.
Today the Fort Railway Station is the main railway station in Sri Lanka functioning with 90 Station Masters and other staff of 180 employees.
Colombo Fort Railway Station consists of eleven platforms with several other offices such as the Operations Room, Booking Office, Parcel Section, Administrative Office and the Ticketing Office. By now it is equipped with other facilities such as Passenger Rest Rooms, Restaurants and Cloak Rooms etc.
The Fort Railway Station is prepared for a journey of yet another hundred years in future by contributing to an economical and efficient as well as a safe and reliable passenger and goods transport service to the public running a service of around 360 journeys up and down a day providing services and facilities to nearly two hundred thousand passengers.
All rights received. All right to identify the Department of Posts as the Author and designer of this Bulleting has been asserted in accordance with the Copyright, Design and Patents Act 1988.No part to this publication may be reproduced, stored in or introduced into a retrieval system, or transmitted in any form or by and means (electronic, mechanical, photocopying, recording or otherwise) without the prior permission from the publisher. Any person who does and unauthorized act in relation to this publication may be liable to criminal prosecution and civil claims for damages.