B/N 929 – World Post Day 2017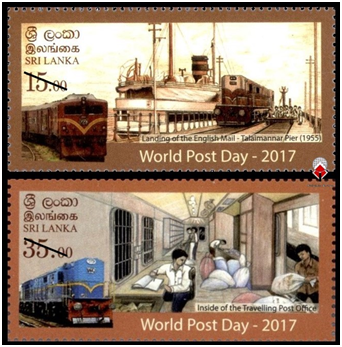 The Philatelic Bureau of the Department of Posts has issuedtwo new postage stamps in the denominations of Rs. 15.00 and Rs35.00 and a souvenir sheet on October 09, 2017 to mark the commemoration of the 143rd World Post Day of 2017.
Date of Issue:
9th October 2017
Denomination:
Rs.15.00, Rs.35.00

Stamps and First day Cover Designer:

Mr.Kalum A.Gunasekara

Souvenir Sheet Designer:

Mr.IsuruChathuranga

Catalogue No.
Rs.15.00 – CSL2256
Rs.35.00 - CSL2257

Stamp Size :
60mm x 30mm

Sheet Composition:
20 stamps per sheet
Souvenir Sheet
First Day Cover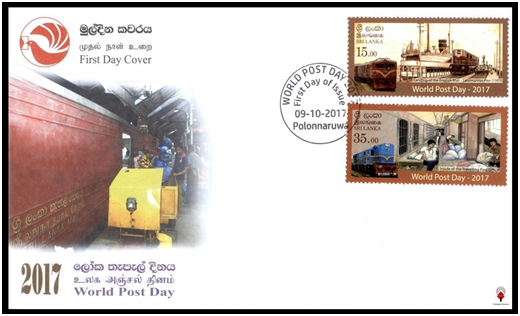 World Post Day 2017
The beginning of post offices in Sri Lanka goes back to the Dutch period in 1787. The post office system which commenced with five post offices in the coastal areas has to day evolved into a system consisting of 641 post offices and 3681 Sub Post Offices.
Letters, parcels and other postal items received by a Post Office are transported to their respective destinations by Postmen, motor vehicles, aero planes and trains.
In the past postal items were transported from one Post Office to another Post Office and also to household residents through Postmen who walked on foot. Subsequently horse carriages were used for that purpose. In Asia it was in Sri Lanka where horse carriages were used for the first time for mail transport.
Horse carriages, motor vehicles, aero planes and trains were used for delivery of mail without delay.
Postal transport by train was started in 1865.That was from Colombo to Ambepussa. Between Ambepussa and Kandy mail was transported using horse carriages and with the commencement of train services between Ambepussa and Kandy in 1867, postal items were transported from Colombo to Kandy by train.
For the first time a mobile post office was started on April 11, 1892 using passenger transport railway compartments where it was possible to sort out letters there itself. This Travelling Post Office facility which was initiated from the hill country was subsequently expanded to other areas such as the southern, north-western, eastern and the northern provinces as well. Today the Travelling Post Offices are in operation as those of Colombo – Badulla, Colombo – Galle and Colombo – Jaffna.
Train service was mainly used for the interior transport of mail and the railway line from Medavachchiya to Thalaimannar can be considered as a unique travelling postal transport route of this service. Postal goods transported to Thalaimannar via Medavachchiya from Colombo were transported by it up to Madras in India. Postal goods brought from Colombo to Thalaimannar via Medavachchiya were unloaded at the Thalaimannar Naval Dockyard. Thereafter, passengers and postal goods were transported by sea from Thalaimannar to Danushkodi in India by ships belonging to the British – India Stem Navigation Company (BISNC) which came from Danushkodi.
Postal goods of Sri Lanka which were unloaded at Danushkodi were transported from there to Madras by the Indian train which used to call at that port. This Indo – Sri Lanka Traveling Post Office commenced on March 01, 1914 was used for the transport of passengers and postal goods between the two countries.
All rights received. All right to identify the Department of Posts as the Author and designer of this Bulleting has been asserted in accordance with the Copyright, Design and Patents Act 1988.No part to this publication may be reproduced, stored in or introduced into a retrieval system, or transmitted in any form or by and means (electronic, mechanical, photocopying, recording or otherwise) without the prior permission from the publisher. Any person who does and unauthorized act in relation to this publication may be liable to criminal prosecution and civil claims for damages.