B/N 930–D. B. Danapala - 2017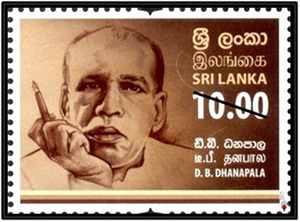 The Philatelic Bureau of the Department of Posts has issueda new postage stamp in the denomination of Rs.10.00 on October 19, 2017 to commemorate Mr.D. B. Danapala.
Date of Issue:
19th October 2017
Denomination:
Rs.10.00

Stamp Designer:

Ms. Wathmi De Soyza

Catalogue No.
CSL 2258
Sheet Composition:
20 stamps per sheet
First Day Cover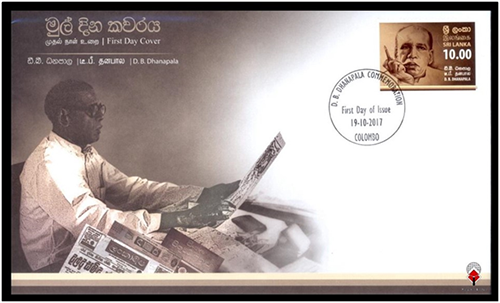 Mr. D. B. Danapala
Mr. D.B. Dhanapala who rendered a yeomen service to widen the horizons of the art of journalism was born onTissamaharama in the southern Sri Lanka on January 5th, 1905. Having gained admission to Mahinda College in Galle, Mr. Dhanapala had his education under the guidance of the then Principal of the College, Mr. F.G. Pierce. Being able to handle the English language in an excellent way, he contributed to the Buddhist Chronicle magazine while still being a student. After completing his school career he entered the Alahabad University in India for higher studies and received his M.A.
Mr Dhanapala who began to write articles to The Ceylon Daily News while still pursuing his university education, cut his teeth in journalism as Features Editor of the Ceylon Daily News at the invitation of Mr D.R. Wijewardane. He wrote under the pseudonym 'Janus'.
Having resigned from the Lake House Mr. Dhanapala had a short stint at Dharmaloka Vidyalaya, Kelaniya as its Principal and thereafter joining TheTimes Newspaper Group he strived to create a Sinhala daily of a new style. The Lankadeepa newspaper which saw the light of day in 1947 was the result of that effort. After its founder Editor Mr Julias de Lanerolle, Mr Dhanapala became its Editor in 1949. In 1960 he resigned from Lankadeepa following dispute.
In 1961, the 'Davasa' newspaper was launched as a publication of the Independent NewspapersGroup under the guidance of Mr. Dhanapala. While functioning as the Editor-in-Chef of 'Davasa', he was able to bring out 16 monthly publications including the weeklies Riviresa, Savasa, Githanjali, Tikiri, Iranama,Rasakatha, Visithura, Poya Davasa, Sri magazine, and the English weeklies the Sun and Weekend and for the Tamil readers, Dinapathi, Theththi, and Chintamani newspapers.
The fact that Mr Dhanapala was an excellent biography writer was amply proved by his works such as Among Those Present (1962), Madam Premier (1960), the biography of Mrs Sirimavo Bandaranaike with its Sinhala translation 'Methiniya' and the book titled 'Eminent Indians' written on important Indian personalities. Among other books written by Mr Dhanapala are The Story of Sinhalese Paintings , Buddhist Paintings From Shrines and Temples in Ceylon (1964) written on the art of paintings in Sri Lanka and 'Sinhala Sithuvam Kalawa' (1958), co-authored with Mahanama Disanayake.
It was Mr Dhanapala who was the pioneer to introduce the literature of stamps to the Sinhala readers of this country. The Lapati Pela supplement of Lankadeepa and Tikiri Muddara Sangarava of the weekly are the examples in this regard. It was Mr Dhanapala's new thinking that paved way for Mr Francis P. Gunasekera to become the poioneer in the literature of Sri Lankan stamps. Tikiri Muddara Samajaya was the largetst Stamps Club in South East Asia at that time and the first stamps exhibition in Sri Lanka was held at the Lionel Wendt theatre from May 5-11 in 1966 sponsored by the 'Davasa' newspaper. Mr. Dhanapala's wife was Mrs. Rathi Dhanapala, an artist. They had three children named Nihalsinha, Suranimala and Sumitha. Mr. D.B. Dhanapala, who opened new vistas for journalism in Sri Lanka bade farewell to the nation on March 18, 1971.
Train service was mainly used for the interior transport of mail and the railway line from Medavachchiya to Thalaimannar can be considered as a unique travelling postal transport route of this service. Postal goods transported to Thalaimannar via Medavachchiya from Colombo were transported by it up to Madras in India. Postal goods brought from Colombo to Thalaimannar via Medavachchiya were unloaded at the Thalaimannar Naval Dockyard. Thereafter, passengers and postal goods were transported by sea from Thalaimannar to Danushkodi in India by ships belonging to the British – India Stem Navigation Company (BISNC) which came from Danushkodi.
Postal goods of Sri Lanka which were unloaded at Danushkodi were transported from there to Madras by the Indian train which used to call at that port. This Indo – Sri Lanka Traveling Post Office commenced on March 01, 1914 was used for the transport of passengers and postal goods between the two countries.
All rights received. All right to identify the Department of Posts as the Author and designer of this Bulleting has been asserted in accordance with the Copyright, Design and Patents Act 1988.No part to this publication may be reproduced, stored in or introduced into a retrieval system, or transmitted in any form or by and means (electronic, mechanical, photocopying, recording or otherwise) without the prior permission from the publisher. Any person who does and unauthorized act in relation to this publication may be liable to criminal prosecution and civil claims for damages.