B/N 931 – 7th Buddhist Summit - 2017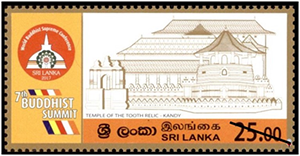 Sri Lanka Philatelic Bureau of the department of Posts has issued a new postage stamp in the denomination of Rs.25.00 and a souvenir sheet to commemorate the 7th Buddhist summit on 2nd November 2017.
Date of Issue:
2nd November 2017
Denomination:
Rs.25.00

Stamp Designer:

Mr.P. IsuruChathuranga

Catalogue No.
CSL2259
Sheet Composition:
20 stamps per sheet
First Day Cover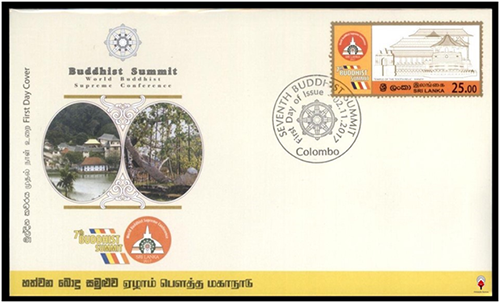 Souvenir Sheet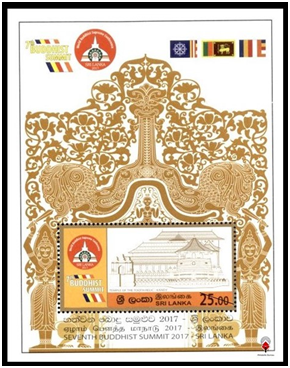 7th Buddhist Summit
The Philatelic Bureau of the Department of Posts will issue a new postage stamp in the denomination of Rs. 25.00and a souvenir sheet to commemorate the 7th Buddhist Summit, on 02nd November, 2017.
World Buddhist Supreme Conference recognizes the importance of religion in the daily lives of individuals, as well as the unique role it plays in shaping attitudes and behaviours at the local, regional, national and international level. In today's world, in which many societies consist of people of various faiths and traditions, religious faith, respect and understanding is essential for achieving sustained peace and social development.
The religion can resolve the present problems. Buddhism has firmly upheld its principle of nonviolence throughout its history of 2,500 years. The Noble Eightfold Path of Buddhism that made up of Right Understanding; Right Thought, Right Speech; Right Action, Right Livelihood; Right Effort; Right Mindfulness and Right Concentration is no doubt that Buddhism is the religion of peace that brings great hope to us, all human beings.
In this Seventh Buddhist Summit, the supreme Buddhist leaders from 47 countries across the 5 continents appeal to the world, "Revert to the original teachings of Lord Buddha, propagate Buddhism by overcoming the differences of various traditions. Buddhist leaders will share their wisdom and experiences, strengthen the solidarity, and work together for realizing true peace on this earth. Buddhist leaders will propose various ways for all generation to get familiar with Buddhist principles and practices. Such proposals will make a powerful contribution to the further propagation of Buddhism and bring fruitful results for saving all human beings.
All rights received. All right to identify the Department of Posts as the Author and designer of this Bulleting has been asserted in accordance with the Copyright, Design and Patents Act 1988.No part to this publication may be reproduced, stored in or introduced into a retrieval system, or transmitted in any form or by and means (electronic, mechanical, photocopying, recording or otherwise) without the prior permission from the publisher. Any person who does and unauthorized act in relation to this publication may be liable to criminal prosecution and civil claims for damages.