B/N 937 – National Independence Day 2018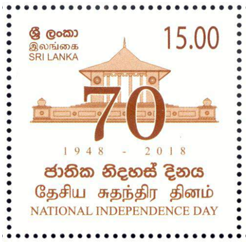 The Sri Lanka Philatelic Bureau of the Department of Posts has issued a new postage stamp in the denomination of Rs. 15.00 on the National Independence Day on February 04, 2018, to commemorate the 70th year of independence of Sri Lanka from the British Empire.
Date of Issue
04 February, 2018

Denomination
Rs.15.00

Catalogue No:
CSL 2270
Stamp Designer
Stamp Size:
40mm x 40mm
Sheet Composition:
20 stamps per sheet
First Day Cover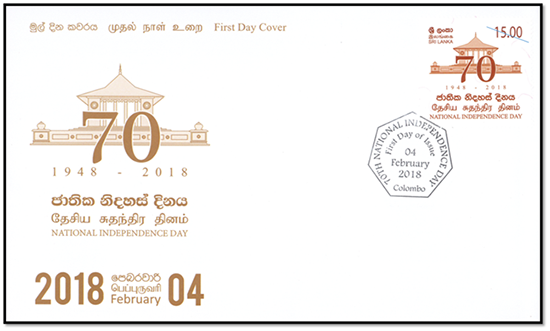 Independence Day 2018
This commemorative stamp depicts the 70th commemorative logo of the National Independence Day celebrations held under the theme 'One Nation', using a painting in the Hall of Independence which is the symbol of freedom of this country.
The Hall of Independence was built on a block of land at Kurunduwatta in Colombo to commemorate the occasion of independence after Sri Lanka received independence from the British Imperialism in 1948. Today this building and its precincts are known as the Independence Square.
This building is constructed resembling the structure of the Audience Hall or the 'Magul Maduwa' in Kandy where the historic Kandyan Convention of 1815 was signed. The Independence Museum is housed on the ground floor of this Hall which has been built preserving the ancient architectural style. The statue of Right Honourable D. S. Senanayake, the first Prime Minister of this country, has been erected in front of this building.
The Independence Hall which is a symbol of independence of this country is built with seating facilities to accommodate at the same time, all the 224 Members of the House of Parliament and the House of Senate of this county at the time of independence. The open area of the Independence Square is designed enabling seating facilities for 25,000 persons and room for over one hundred thousand members of the public. During the early periods of independence, annual Independence Day celebrations were held on these premises and by now it has become a memorable site where functions of national importance are held.
All rights received. All right to identify the Department of Posts as the Author and designer of this Bulleting has been asserted in accordance with the Copyright, Design and Patents Act 1988.No part to this publication may be reproduced, stored in or introduced into a retrieval system, or transmitted in any form or by and means (electronic, mechanical, photocopying, recording or otherwise) without the prior permission from the publisher. Any person who does and unauthorized act in relation to this publication may be liable to criminal prosecution and civil claims for damages.