B/N 947 – World Children's Day 2018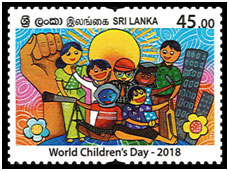 Sri Lanka Philatelic Bureau of the Department of Posts has issued a new postage stamp in the denominations of Rs.45.00 to commemorate the World Children's Day 2018 on 01st October, 2018.
Date of Issue
01st October, 2018

Denomination
Rs.45.00
Catalogue No:

CSL 2303

Stamp Designer

W. A. Kaveesha Kavimini Weerasinghe

Stamp Size:

41mm x 30mm


First-day Cover Designer :

Maheesha Dewmini De Silva

Sheet Composition:
20 stamps per sheet
First Day Cover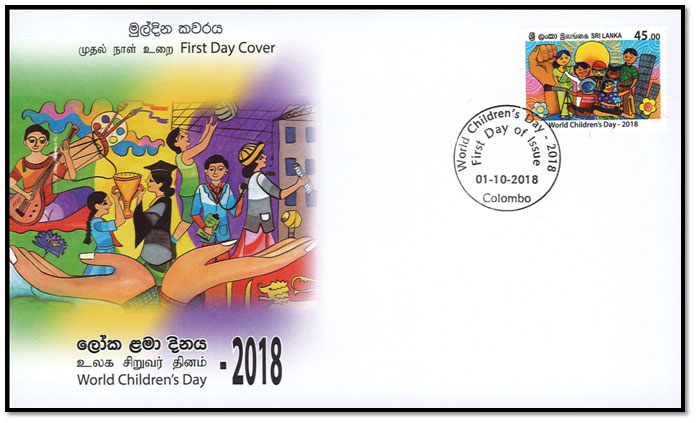 World Children's Day – 2018
The Ministry of Women and Child Affairs, aligning existing national trends related to children with international tendencies, has declared "Strengthen Our Children to go forth with Courage" as this year's them for the World Children's Day.
In developing this year's theme, the Ministry's prime objective was to empower children to face the society and its issues with courage and bravery. At present, we are discussing numerous issues and challenges related to children's care, safety, development, sustenance, nourishment, education etc. and taking measures and implementing strategies to prevent such challenges. However, nobody is capable of addressing or attending to each incident separately. Therefore, children should be mentally and spiritually empowered to identify challenges they encounter in their surrounding and to face or deal with them successfully.
Likewise, children should be empowered and taught to lead a blameless life, identify moral obligations, voice such respectable deeds to the society without fear, steadfastly resist or oppose any harm or harassment that may occur to him/her or his/her friend from strangers and to take further action.
Our beloved children should be strengthened as they could lay their own foundation to be well-developed persons in every respect, identify their rights as children and be responsible for the protection of those rights. Then, undoubtedly, there will be an environment where children can enjoy the beauty of childhood and live in a happy and pleasing surrounding without the fear of being harmed and harassed.
All rights received. All right to identify the Department of Posts as the Author and designer of this Bulleting has been asserted in accordance with the Copyright, Design and Patents Act 1988.No part to this publication may be reproduced, stored in or introduced into a retrieval system, or transmitted in any form or by and means (electronic, mechanical, photocopying, recording or otherwise) without the prior permission from the publisher. Any person who does and unauthorized act in relation to this publication may be liable to criminal prosecution and civil claims for damages.