B/N 959 – Centenary of the International Labour Organization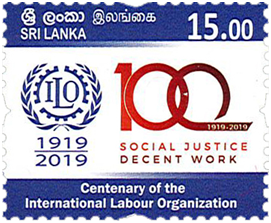 | | |
| --- | --- |
| Date of Issue | 11th of April 2019 |
| Denomination | Rs.15.00 |
| Catalogue No: | CSL 2322> |
| Stamp Designer | Ruwan upasena |
| Sheet Composition: | 20 stamps per sheet |
First Day Cover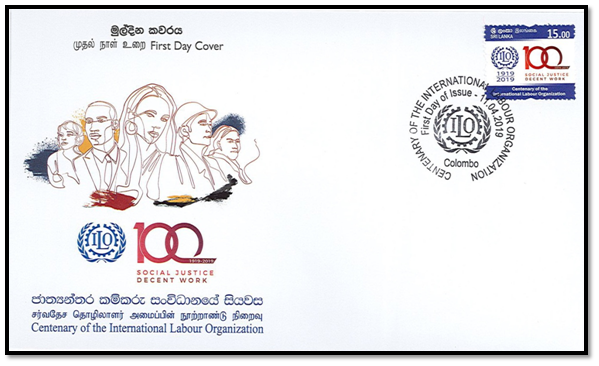 Centenary of the International Labour Organization
Sri Lanka Philatelic Bureau of the Department of Posts will issue a new postage stamp in the denomination of Rs 15.00 to commemorate the Centenary of the International Labour Organization on 11th of April 2019.
The International Labour Organization (ILO) is the United Nations agency for the world of work. Devoted to advancing social justice, it promotes a Decent Work Agenda based on four strategic pillars: rights at work, decent employment opportunities, social protection and social dialogue.
It is the only public international organization which is tripartite, where workers and employers enjoy equal rights with governments in representation and decision making. Together they set labour standards, develop policies and devise programmes upholding decent and productive work, in conditions of freedom, equity, security and dignity for all.
Created in 1919 as part of the Treaty of Versailles that ended World War I, the ILO became the first specialized agency of the UN in 1946. Today it is recognized as the world's authority on the world of work, offering over 100 years of knowledge, experience and achievements.
Sri Lanka became a member of the ILO in 1948. In 1984 the ILO Country Office in Colombo was established. In 2009, the ILO Country Office expanded its coverage to include the Maldives.
Since 2006 Sri Lanka has designed and executed three Decent Work Country Programmes (DWCPs). The ongoing fourth Decent Work Country Programme (2018-2022) has three Country Priorities, and these are the creation of sustainable, inclusive and decent employment; better governance of the labour market; and rights at work for all; and with greater data and knowledge generation as an enabling priority across the DWCP.
The ILO's social partners in Sri Lanka include the subject ministries for Labour, Foreign Employment, Skills Development and Vocational Training; the Employers' Federation of Ceylon; and trade unions.
All rights received. All right to identify the Department of Posts as the Author and designer of this Bulleting has been asserted in accordance with the Copyright, Design and Patents Act 1988.No part to this publication may be reproduced, stored in or introduced into a retrieval system, or transmitted in any form or by and means (electronic, mechanical, photocopying, recording or otherwise) without the prior permission from the publisher. Any person who does and unauthorized act in relation to this publication may be liable to criminal prosecution and civil claims for damages.