B/N 966 - World Children's Day – 2019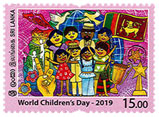 Sri Lanka Philatelic Bureau of the Department of Posts has issued a new postage stamp in the denomination of Rs. 15.00 to commemorate the World Children's Day 2019 on 01st October, 2019
| | |
| --- | --- |
| Date of Issue | 1st of October 2019 |
| Denomination | Rs.15.00 |
| Catalogue No: | CSL 2333 |
| Stamp Designer | W.A.Kaveesha Kavimini Weerasinghe |
| Sheet Composition: | 20 stamps per sheet |
First Day Cover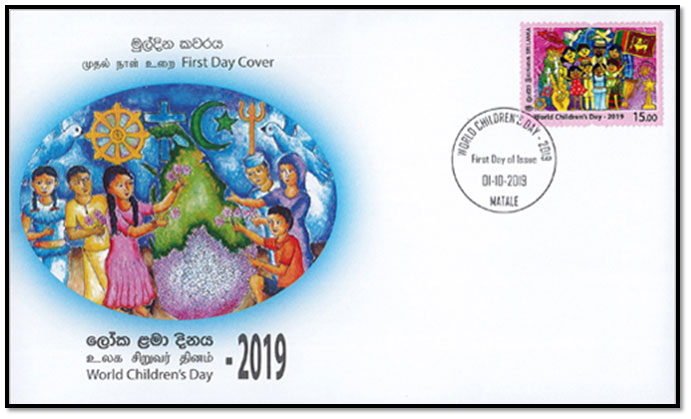 World Children's Day – 2019
Sri Lanka Philatelic Bureau of the Department of Posts has issued a new postage stamp in the denomination of Rs. 15.00 to commemorate the World Children's Day 2019 on 01st October, 2019
The Ministry of Women and Child Affairs and Dry Zone Development has announced "A friendly Nation for the Victory of Children" as the theme of World Children's Day 2019.
The theme was mainly developed to direct children towards victory through empowerment; to empower them to be winners in life and to overcome challenges. Challenges faced by present-day children are diverse and vary day by day. In raising a child to be a winner in life, personality should be developed giving priority. Then he/she will be capable of identifying the right thing and arranging his activities accordingly, taking crucial decisions appropriately, maintaining good social relations and practices and being successful in later life as a good citizen.
For the purpose, we need to adopt a child-friendly approach. Then, the children may experience the beauty of their world presented by a society with pleasant thoughts and attitudes. The child who grows up in our protection, affection and friendliness would undoubtedly conquer the future world.
All rights received. All right to identify the Department of Posts as the Author and designer of this Bulletin has been asserted in accordance with the Copyright, Design and Patents Act 1988.No part to this publication may be reproduced, stored in or introduced into a retrieval system, or transmitted in any form or by and means (electronic, mechanical, photocopying, recording or otherwise) without the prior permission from the publisher. Any person who does and unauthorized act in relation to this publication may be liable to criminal prosecution and civil claims for damages.