B/N 971 – Kalaguru Walimuni Solias Mendis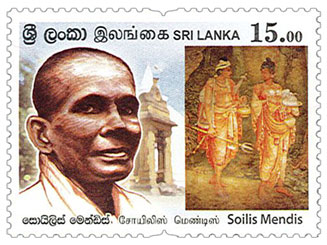 The Philatelic Bureau of the Department of Post has Issued a new postage stamp in the denomination of Rs. 15.00 on 7th October, 2019 in memory of the renowned artist Solias Mendis.
| | |
| --- | --- |
| Date of Issue | 07th of October 2019 |
| Denomination | Rs.15.00 |
| Catalogue No: | CSL 2344 |
| Stamp Designer | P.Isuru Chathuranga |
| Sheet Composition: | 20 stamps per sheet |
First Day Cover
Kalaguru Walimuni Solias Mendis
Acknowledged as Ceylon's foremost mural painter of modern times, Kalaguru Solias Mendis dedicated his life for the renaissance of Buddhist temple paintings. His efforts to create a feeling of solemn reverence towards the Triple Gem in the minds of people, local and foreign alike, through his paintings stand unparalleled.
This genius of a painter, a maestro incomparable was a native of the village of Mahawewa in the Puttalam District in the Northwestern Province of Sri Lanka. He was the second child of Walimuni Sirinelis Mendis and Nissanka Shiro Mendis. He had one elder brother and four younger brothers and three younger sisters.
He had his early education at a pirivena under the tutelage of the Venerable Kiriwaththuduwe Sri Pannasara thero. At an early age he showed extraordinary prowess as an artist and commenced his art career with paintings at Sumanakusumarama Temple, Mawila under the eye of master painter Monis Silva.
Once accomplished himself, he painted murals at Kelaniyangoda Siridhamma Vihara of Pitiduva, Galle and around 1918, painted murals at the Sri Sunandarama Temple in Meddepola, Giriulla. His inspired creations depicting scenes of traditional Jathaka stories of importance and historic events associated with our Buddhist history can also be seen at Jaya Maha vihara, Polonnaruwa, Shila Pokkharani Vihara, Udubaddawa and Lenagalpola Vihara, Malwana.
The mural paintings at the historic Kelaniya Temple, his magnum opus, subsequent to the restoration work of the sacred temple initiated by the Wijewardana family, took place during the decades of 1930- 1940s. The magnificent panel of murals at Kelani Vihara includes the important events of Sakyamuni Buddha's life and the history of Buddha Sasana in Sri Lanka, the history of Kelaniya Raja Maha Vihara, the conduct of Jaya Sri Maha Bodhi to Lanka and the protection given to the Buddha's Tooth Relic, which was concealed in the knot of hair of Princess Hemamali. It took him about nineteen long years of infinite pains and patience, standing on scaffolds to complete, all what he left for posterity to admire.
His last few years were spent at his native Mahawewa where he built a home for the benefit of deaf and blind children with all what little wealth he owned. It was later handed over to the All Ceylon Buddhist Congress. He was conferred the honorary title of 'Kalaguru' by the Lanka Art Union in 1970.
This great artist passed away at a private hospital on 01 September 1975. His indomitable patience, compassionate ways, and spirited singular contribution in the area of Buddhist mural art remain for posterity to admire. Sri Lanka had lost in him a national treasure.
All rights received. All right to identify the Department of Posts as the Author and designer of this Bulleting has been asserted in accordance with the Copyright, Design and Patents Act 1988.No part to this publication may be reproduced, stored in or introduced into a retrieval system, or transmitted in any form or by and means (electronic, mechanical, photocopying, recording or otherwise) without the prior permission from the publisher. Any person who does and unauthorized act in relation to this publication may be liable to criminal prosecution and civil claims for damages.