B/N 975– -Provincial Flowers of Sri Lanka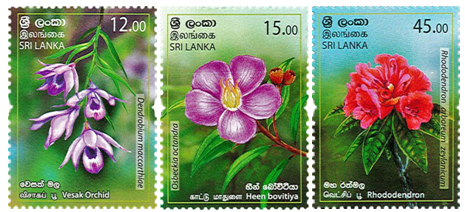 The Philatelic Bureau of the Department of Post has issued new postage stamps of the definitive category in the denominations of Rs.12.00, Rs. 15.00 and Rs.45.00 on 13 th Of December 2019, depicting the official flowers of three Provinces in Sri Lanka
Date of Issue
13th of December 2019
Denomination
Rs.12.00, Rs.15.00 & Rs.45.00
Catalogue No:
Rs.12.00 -CSL 2349
Rs.15.00-CSL 2350
Rs.45.00-CSL 2351
Stamp Designer
P.Isuru Chathuranga
Stamp Size:
30mm x 45mm
Sheet Composition:
100 stamps per sheet
First Day Cover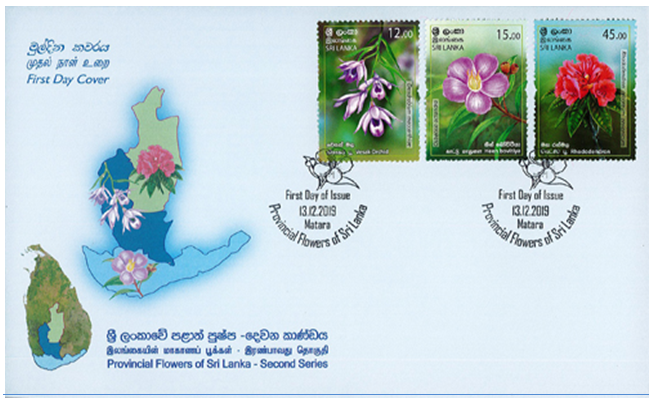 Provincial Flowers of Sri Lanka
Official flower of the Central Province
Scientific Name - Rhododendron arboreum
The Maharath Mala belonging to the Rhododendron genus of the Ericaceae family and is known as Billi in Tamil. It is endemic to Sri Lanka and commonly grows in forests located on the upper highlands and high grasslands..
Attributes
Grows to be a small (up to 3 meters) to medium (up to 20 meters) tree with a thick and gnarled trunk. Base of the tree is relatively thick and the bark takes a dark ash colour. The bark of the tree is thick and heavily wrinkled. Lateral branches too are strong and knotted. Twigs clearly bear leaf scars. The roots system is superficial and is driven several centimeters into the earth from surface level.
Foliage
Leaves are fleshy and thick. They take a somewhat round shape with a sharp pointed end which may be elliptical or oval. Underside of the leaves contain fine brown felt. Leaves take a concave shape with deeply sunk veins. Upto 12-16 lateral veins could be observed on a leaf.
Flowers
Rhododendron arboretum has an inflorescence of a diameter of 4.5 c.m. The inflorescence is relatively shorter and contains approximately 25 flowers which give the appearance of one large flower head. Flowers take a purplish red colour and are clear and large. Rhododendron arboretum blooms from February to July.
Uses
Adds to the beauty of the highlands and high grasslands.
Leaves are used as a medicine
---
Vesak Orchid
Official flower of the Sabaragamuwa Province
Scientific Name - Dendrobium maccarthiae
The Vesak orchid belongs to the Dendrobium genus of the Orchidaceae family and is endemic to Sri Lanka. It is a rare flower that blooms in the forests in the Ratnapura area which receives high rainfall. The plant has been declared as a protected species under the Flora and Fauna Ordinance of Sri Lanka and has been entered into Category II under the Convention on International Trade in Endangered Species of Wild Fauna and Flora.
Foliage
The Vesak Orchid has a great number of dark green and shiny leaves. Several veins can be clearly observed on the leave. Leaves are about 4cm to 8cm in length. Base of the leave encircles the trunk.
Flowers
Flowers have a width of 7.5c.m. and has a light violet pink colour. The labium has a dark purple center. Flowers bloom in clusters made of 2 to 4 flowers on a short axis on the opposite side of the leaves. More than one florescence at a time may bloom on a trunk. The Vesak Orchid blooms in the months of May and June giving it the unique name 'Vesak' flower.
Uses
Grown as an ornamental plant.
---
Heen Bovitiya
Official flower of the Southern Province
Scientific name - Osbeckia octandra
The Heen Bovitiya plant belongs to the Osbeckia genus of the Melastomataceae family. It is endemic to Sri Lanka and can be commonly observed in dry mountainous regions of Sri Lanka
Attributes
It is s shrublet with a height of approximately 02 meters. The trunk has a fibrous texture and takes a light reddish brown colour.
Foliage
Leaves take an elliptical shape with the base of the leave appearing round. The stalk is approximately 1mm to 5mm long. Three veins can be observed clearly on the leave. Top and underside surfaces of the leave including veins are covered in hair-like felt.
Flowers
Pinkish-purple flowers are stalked and consist of five petals. Only a few flowers bloom on a single sprig while they appear loosely clustered. There is a triangular calyx of approximately 2mm to 4mm. Petals are approximately 15mm to 19mm.
Uses
Used in gardens as an ornamental plant
Leaves and bark have medicinal properties
The Bovitiya flower has been the inspiration for many folk poems and folk music
---
All rights received. All right to identify the Department of Posts as the Author and designer of this Bulleting has been asserted in accordance with the Copyright, Design and Patents Act 1988.No part to this publication may be reproduced, stored in or introduced into a retrieval system, or transmitted in any form or by and means (electronic, mechanical, photocopying, recording or otherwise) without the prior permission from the publisher. Any person who does and unauthorized act in relation to this publication may be liable to criminal prosecution and civil claims for damages.)