B/N 979 - 60th Anniversary of Sri Lanka – Nepal Diplomatic Relations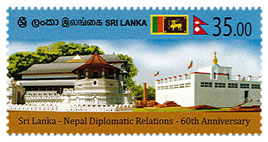 The Philatelic Bureau of the Department of Posts of Sri Lanka has issued a new postage stamp depicting Temple of the Tooth Relic in Kandy and Lumbini Temple in Nepal in the denomination of Rs. 35.00 on 20th February, 2020 to mark the Sri Lanka – Nepal diplomatic relations.
| | |
| --- | --- |
| Date of Issue | 20th February, 2020 |
| Denomination | Rs.35.00 |
| Catalogue No: | CSL 2364 |
| Stamp Designer | Ruwan Upasena |
| Sheet Composition: | 20 stamps per sheet |
First Day Cover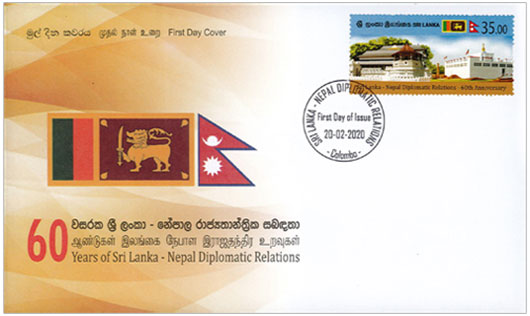 60th Anniversary of Sri Lanka – Nepal Diplomatic Relations
Relations between Sri Lanka and Nepal have been expanded to multifaceted and mutually rewarding relationship since the two countries established diplomatic relations in 1957.
Sixty years of diplomatic relations with Nepal is an important milestone in our bilateral ties. hese relations have grown from strength to strength over the years across the spectrum including cultural exchanges and people to people contact. Historical evidences prove that the two countries enjoyed close and friendly relations for many centuries and the formal Diplomatic relations have formalized such historical relations.
Religious links between the two countries play a pivotal role in the bilateral ties. Lumbini, the birthplace of Lord Gautama Buddha, attracts a large number of Buddhist pilgrims every year and Sri Lanka has been on the top of the countries in terms of tourists visiting Lumbini.
The Pilgrims' Rest and Sri Lanka Mahavihara temple in Lumbini are symbolic of the Sri Lanka's close friendship with Nepal. A considerable number of Buddhist monks and nuns follow Buddhist studies in Sri Lanka at present. The assistance provided by Sri Lanka to those affected by the earthquake in Nepal was further expanded by the financial assistance to rebuild the two heritage temples i.e. AnandakutiMahaVihar and RatoMachchindranath Hindu Temple in Kathmandu, which were damaged by the earthquake in 2015.
The Government of Sri Lanka is committed to further strengthening the existing relations between the two countries. The Exchange of visits by political leaders, Cabinet ministers and Representatives from various Ministries have benefited both countries to strengthen relations in various sectors including education, culture, trade, tourism, agriculture, aviation etc. Sri Lanka and Nepal have signed number of bilateral Agreements and MOUs including Agreement on Joint Commission with a view to foster understanding and promote bilateral cooperation in various sectors.
In addition, both countries assist each other by offering training programmes related to defence, and Sri Lanka is offering scholarships for Nepali students under the Presidential Scholarship Programme. A large number of Sri Lankan students are studying in various universities in Nepal. Manipal Medical College in Pokhara has been a popular destination for Sri Lanka medical students.
Sri Lanka's relations with Nepal, which embedded with age old Historical, Social, Cultural and Commercial interactions will further consolidate by mutual goodwill and understanding. Both countries work closely within the policies of non-Aligned Movement and United Nations and have shared views on many issues of common interest. Sri Lanka and Nepal are members of SAARC, BIMSTEC and Colombo plan. SAARC has provided the platform to address issues and share common concerns and the two countries are committed to expand the regional-cooperation for the mutual benefit of the people of the region.
All rights reserved. All right to identify the Department of Posts as the Author and designer of this Bulleting has been asserted in accordance with the Copyright, Design and Patents Act 1988.No part to this publication may be reproduced, stored in or introduced into a retrieval system, or transmitted in any form or by and means (electronic, mechanical, photocopying, recording or otherwise) without the prior permission from the publisher. Any person who does and unauthorized act in relation to this publication may be liable to criminal prosecution and civil claims for damages.)