B/N 980 - 2020 - Towards Sustainable development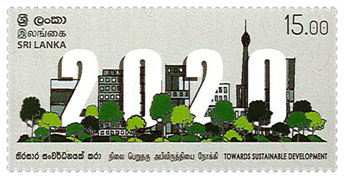 The philatelic bureau of the Postal Department has issued a stamp worth Rs. 15.00 on February 20, 2020, to mark the Decade of Action to usher in a decade of ambitious action to achieving Sustainable Development goals by 2030. The launch will be held at 20:20:20 (at the 20th second on the 20th minute of 20th hour on February 20.)
| | |
| --- | --- |
| Date of Issue | 20th February, 2020 |
| Denomination | Rs.15.00 |
| Catalogue No: | CSL 2365 |
| Stamp Designer | Amaya Rodrigo |
| Sheet Composition: | 20 stamps per sheet |
First Day Cover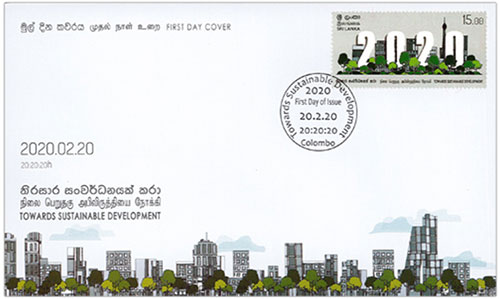 2020 - Towards Sustainable development
In this decade the United Nations hopes that countries around the world would accelerate sustainable solutions to all the world's biggest challenges — ranging from poverty and gender to climate change, inequality and closing the finance gap.
In the year 2000, all member states of the United Nations signed the millennium declaration following a three day Millennium Summit. UN General Assembly adopted eight goals which included eradicate extreme poverty and hunger, achieving universal primary education, promoting gender equality and empower women, reducing child mortality, improving maternal health, combatting HIV/AIDS, malaria, and other diseases, ensuring environmental sustainability and developing a global partnership for development. These were called millennium development goals (MDG.) It was expected that significant progress could be achieved on these fronts by 2015.The progress made in achieving these goals were evaluated in 2015 during the UN General Assembly. Based on the review; 193 countries of the UN General Assembly adopted the 2030 Development Agenda titled "Transforming our world: the 2030 Agenda for Sustainable Development" on 25 September 2015. This agenda has 92 paragraphs. Paragraph 59 outlines the 17 Sustainable Development Goals and the associated 169 targets and 232 indicators. These Sustainable Development Goals were to be achieved by 2030.
The members of the UN General Assembly expected that these Sustainable Development Goals would help identify the root causes of poverty and would address the need for all nations to achieve development in a sustainable manner. The 17 Sustainable Development Goals are;
Goal 1: End poverty in all its forms everywhere
Goal 2:End hunger, achieve food security and improved nutrition, and promote sustainable agriculture
Goal 3:Ensure healthy lives and promote well-being for all at all ages
Goal 4:Ensure inclusive and equitable quality education and promote lifelong learning opportunities for all
Goal 5:Achieve gender equality and empower all women and girls
Goal 6:Ensure availability and sustainable management of water and sanitation for all
Goal 7:Ensure access to affordable, reliable, sustainable and modern energy for all
Goal 8:Promote sustained, inclusive and sustainable economic growth, full and productive employment and decent work for all
Goal 9:Build resilient infrastructure, promote inclusive and sustainable industrialization, and foster innovation
Goal 10:Reduce income inequality within and among countries
Goal 11:Make cities and human settlements inclusive, safe, resilient, and sustainable
Goal 12:Ensure sustainable consumption and production patterns
Goal 13:Take urgent action to combat climate change and its impacts by regulating emissions and promoting developments in renewable energy
Goal 14:Conserve and sustainably use the oceans, seas and marine resources for sustainable development
Goal 15:Protect, restore and promote sustainable use of terrestrial ecosystems, sustainably manage forests, combat desertification, and halt and reverse land degradation and halt biodiversity loss.
Goal 16:Promote peaceful and inclusive societies for sustainable development, provide access to justice for all and build effective, accountable and inclusive institutions at all levels
Goal 17:Strengthen the means of implementation and revitalize the global partnership for sustainable development.
In 2020, we have stepped into the third decade of the 21st century. Given that the world is five years into the ambitious undertaking of achieving Sustainable Development Goals, The UN says that the Decade of Action on the Sustainable Development Goals 'signals a renewed commitment by the international community to accelerate action towards reaching the global goals.' This is a time that a new government in Sri Lanka too had declared the importance of meeting Sustainable Development Goals. Thus the time is right to achieve these ambitious goals with a new set of plans and proposals based on sustainability.
Sustainable Development Goals does not only mean protecting the nature through a sustainable environmental policy. Special focus must also be on land and land use, biodiversity, the atmosphere, industry, waste management, settlements and cities. Sustainability in consumption patterns and manufacturing are important for the development of the country. The theme of this stamp is to highlight the importance of establishing eco-friendly industrial zones in achieving a green economy.
All rights reserved. All right to identify the Department of Posts as the Author and designer of this Bulleting has been asserted in accordance with the Copyright, Design and Patents Act 1988.No part to this publication may be reproduced, stored in or introduced into a retrieval system, or transmitted in any form or by and means (electronic, mechanical, photocopying, recording or otherwise) without the prior permission from the publisher. Any person who does and unauthorized act in relation to this publication may be liable to criminal prosecution and civil claims for damages.)