B/N 981 - Alhaj Mohideen Baig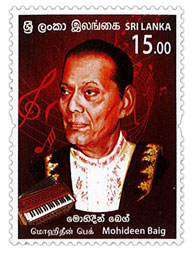 The philatelic bureau of the Postal Department has issued a stamp worth Rs. 15.00 on February 20, 2020, to commemorate Sri Lankan musician known for his Buddhist devotional music, Alhaj Mohideen Baig.
| | |
| --- | --- |
| Date of Issue | 20th February, 2020 |
| Denomination | Rs.15.00 |
| Catalogue No: | CSL 2366 |
| Stamp Designer | Wathmi de Zoisa |
| Sheet Composition: | 20 stamps per sheet |
First Day Cover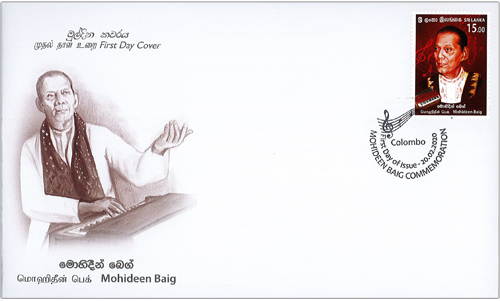 Baig has a special place in Sri Lankan music because he is the most famous singer of Buddhist devotional songs. No public Buddhist event is complete without his songs. However, his repertoire is not limited to Buddhist devotional music. His song 'Ewilla Ewilla' on the Sinhala and Hindu New year is still the most popular anthem for the season. Another of his classics 'Obe Ragi Mana Kelambedo' is synonymous with the Vesak Festival, while imagining celebrating the Poson Poya ithout Baig's 'Mihinthalawai, Daham Amawai,' is impossible for any Sri Lankan. He is also a vital part in the Sri Pada season, 'Sakala Sathama Bodu Betiyen.' Overall, he has sung the theme of all main events of the Sinhala cultural calendar
Baig was born in Tamil Nadu, India on 05 December 1919 and arrived in Sri Lanka when he was 13 after his elder brother, who was a policemen in Ceylon, passed away. He made his singing debut in 1934 when he sang 'Karuna Muhude Naamu Gilila' with popular singer, K. K. Rajaluckshmi. Baig debuted as a playback singer in 1947 in the second Sinhalese film Ashokamala. Soon Baig was the most popular singer in Sinhala cinema and most of the songs attributed to the main actor was sung by him. Baig also starred in the film 'Sujata'. He was also the only Sri Lankan to duet with famous Indian singer, Lata Mangeshkar in the only song she sang in Sinhala. He also worked with almost all top singers at the time, including Rukmani Devi and was also the music director of the film 'Jeevana Geethaya.' Until his death, he was the opening act in almost all main musicshows.
In 1966, he won the Sarasaviya award for the best singer for his work in 'Allapu Gedara.' He was awarded the Kalashoori Award in 1987.
Baig passes away on 04 November 1991 leaving behind a void that had hitherto remain unfilled. The massive crowd that arrived at his funeral showed that that art could indeed dissolve the boundaries between people.
All rights reserved. All right to identify the Department of Posts as the Author and designer of this Bulleting has been asserted in accordance with the Copyright, Design and Patents Act 1988.No part to this publication may be reproduced, stored in or introduced into a retrieval system, or transmitted in any form or by and means (electronic, mechanical, photocopying, recording or otherwise) without the prior permission from the publisher. Any person who does and unauthorized act in relation to this publication may be liable to criminal prosecution and civil claims for damages.)