B/N 982 - S. Panibharatha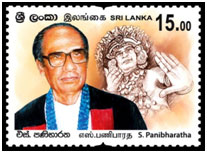 The Philatelic Bureau of the Postal Department has Issued a stamp worth Rs. 15.00 on February 24, 2020, to commemorate Sri Lankan musician known for his Buddhist devotional music, S. Panibharatha
| | |
| --- | --- |
| Date of Issue | 24th February, 2020 |
| Denomination | Rs.15.00 |
| Catalogue No: | CSL 2367 |
| Stamp Designer | WP.IsuruChathuranga |
| Sheet Composition: | 20 stamps per sheet |
First Day Cover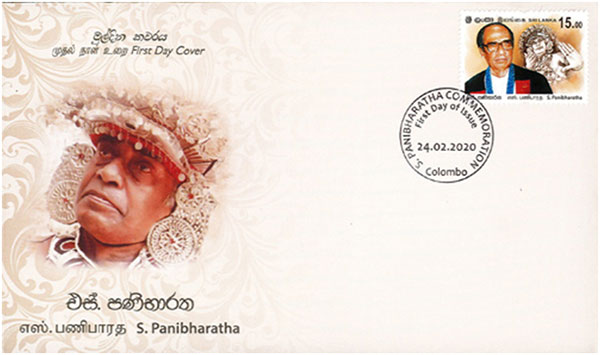 Panibharatha
Siththacharige Panis was born on the 20th February 1920 in the charming, rural village of Algama in the Kegalle District of Sri Lanka.
He received his primary education at MedagamaVidyalaya, Algama and then furthered his secondary education via a Pirivena. During this time, he was under the tutelage of some excellent and distinguished Buddhists Monks including Rev. KirialleGnanawela and Rev. ThibbatuweGunananda, who imparted him with a great deal of wisdom and knowledge
At age 7, S. Panibharatha was designated the honour of performing the "MagulBera" (Traditional and Auspicious Drumming at Important Events) at the opening of Sri Lanka Broadcasting Corporation.
He expanded his talent, technique and knowledge of traditional Sri Lankan Dance Forms and Drumming Skills under the instruction of his Uncle, AlgamaKiriganna.
Thereafter, upon the invitation of J. D. A. Perera, he accompanied Mr. Perera's Wife Chandralekha on her Visit to India as her Traditional Drummer. It was during this visit he met many artistic and literary personalities based in India. It was after this visit to India that he received the opportunity to further his Tertiary Artistic Disciplines at the Shantiniketan, Calcutta, India.
Upon his return to the Island, he became more renowned and better known as "SiththacharigePanibharatha".
Since then, he created and contributed many dance items to the Traditional Dance Arena of Sri Lanka.
He was the Founding Principal of the Lalitha Kala Institute and pioneered tirelessly to make it a part of the University Education system of Sri Lanka. During Her Majesty Queen Elizabeth II's visit to Sri Lanka, S. Panibharatha's role was monumental. Along with his apprentices and students, he showcased some spectacular items of traditional dance.
He had been an office bearer in many Sri Lankan artists' associations and trail blazed in the tutelage of both Sri Lankan and Indian Traditional Drums to his students. Other artistic endevours that he was brilliantly verse in included painting, sculpture and singing.
His contribution towards Sri Lankan Traditional Dance and "Mudra Natya" (Oriental Ballet) is immeasurable and priceless.
He embarked on his final journey upon leaving his physical presence on earth at the age of 86 on 22nd September 2005.
All rights reserved. All right to identify the Department of Posts as the Author and designer of this Bulleting has been asserted in accordance with the Copyright, Design and Patents Act 1988.No part to this publication may be reproduced, stored in or introduced into a retrieval system, or transmitted in any form or by and means (electronic, mechanical, photocopying, recording or otherwise) without the prior permission from the publisher. Any person who does and unauthorized act in relation to this publication may be liable to criminal prosecution and civil claims for damages.