B/N 985 Vesak 2564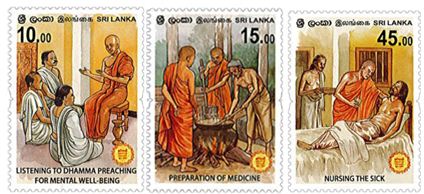 The Philatelic Bureau of the Department of Posts has Issued three new postage stamps to mark the Vesak 2564, in the denominations of Rs. 10.00, Rs. 15.00 and Rs. 45.00, on May 06, 2020.
Date of Issue
May 06, 2020
Denomination
Rs.10.00,Rs.15.00,Rs.45.00
Catalogue No:
Rs.10.00 - CSL 2389
Rs.15.00CSL 2390
Rs.45.00CSL 2391

Stamp Designer
Pulasthi Ediriweera
Stamp Size:
41mm x 30mm
Sheet Composition:
20 stamps per sheet
First Day Cover
Miniature Sheet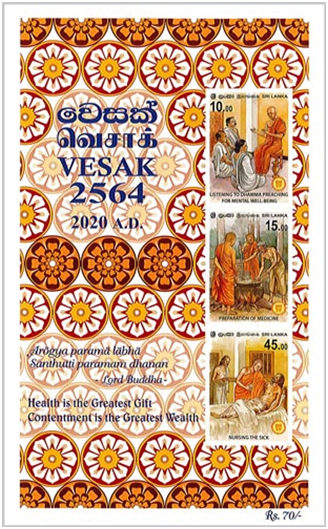 The theme of the state Vesak festival this year is ArogyaParamaLabha - SanthuttiparamamDhanam (Health is the Greatest Gift, Contentment is the Greatest Wealth.)
According to Buddhist literature, Lord Buddha uttered these words when King Pasenadi of Kosala, who reduced the intake of food on Buddha's advice, told Buddha that by eating less he became thin, but he felt very much lighter and enjoyed much better health. Earlier the king had gone to the Jetavana monastery after having a morning meal; one quarter basket (about half a bushel) of rice with meat curry on that day. While listening to Buddha, the king felt very sleepy and was nodding most of the time. Seeing him falling asleep, the Buddha advised him to reduce the daily intake of rice gradually, so that after a while the king would be eating only one-sixteenth part of the original amount he was taking.
Physical and mental health are great privileges and the stamps depict the contribution of Buddhist monks to alleviate the physical and mental health issues of the people.
All rights reserved. All right to identify the Department of Posts as the Author and designer of this Bulleting has been asserted in accordance with the Copyright, Design and Patents Act 1988.No part to this publication may be reproduced, stored in or introduced into a retrieval system, or transmitted in any form or by and means (electronic, mechanical, photocopying, recording or otherwise) without the prior permission from the publisher. Any person who does and unauthorized act in relation to this publication may be liable to criminal prosecution and civil claims for damages.