B/N 986 Faculty of Technology - University of Sri Jayawardenepura
The Philatelic Bureau of the Department of Posts will issue a new postage stamp in the denomination of Rs. 15.00 on 16th March, 2020 mark the opening of the Faculty of Technology University of Sri Jayawardenepura.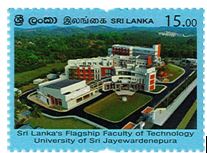 | | |
| --- | --- |
| Date of Issue | June 08th, 2020 |
| Denomination | Rs.15.00 |
| Catalogue No: | CSL 2392 |
| Stamp Designer | P.IsuruChathuranga |
| Sheet Composition: | 20 stamps per sheet |
First Day Cover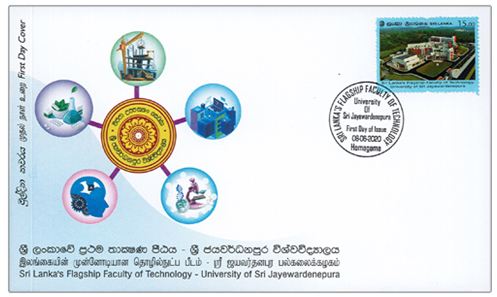 The present University of Sri Jayewardenepura is a result of the evolution of VidyodayaPirivena established in 1873 by the Chief Buddhist prelate Ven. Hikkaduwe Sri Sumangala Thera. The reconstitutions, VidyodayaPirivena as Vidyodaya University of Ceylon in 1958, as Vidyodaya Campus of the University of Ceylon in 1972 and as University of Sri Jayewardenepura in 1978, are main points of its institutional evolution.
The Vision of the University is to 'Prosper lives through education' and the mission statement is 'We exist to Develop globally competent citizens through our tradition of education for a sustainable future, drawing inspirations from cultural heritage and wisdom'.
Technology stream was introduced to the higher secondary school education system in order to provide the opportunity for students to seek new knowledge and constantly acquiring new skills. It was to adopt a national curricula driven by the imperatives of globalization and technological advances. In order to full fill the vacuum, a new Faculty was established in the first month of 2016, and took in students in the technology stream. The three batches of students are already undergoing the technology study programme. The faculty of Technology at University of Sri Jayewardenepura is the faculty for top ranked students in technology stream and first technology faculty in Sri Lanka.
The faculty has 5 departments of study at present:
Department of Information and communication Technology
Department of Biosystems Technology
Department of Civil and Environmental Technology
Department of Material and Mechanical Technology
Department of Science for Technology
The faculty of Technology offers 12 degree programme from different focus areas with an annual intake of 320 students. The Faculty offers three Honours degree programs in above different fields under the names of Bachelor of Engineering Technology, Bachelor of Biosystems Technology and Bachelor of Information and Communication Technology.
Last updated on 19-02-2021
All rights reserved. All right to identify the Department of Posts as the Author and designer of this Bulleting has been asserted in accordance with the Copyright, Design and Patents Act 1988.No part to this publication may be reproduced, stored in or introduced into a retrieval system, or transmitted in any form or by and means (electronic, mechanical, photocopying, recording or otherwise) without the prior permission from the publisher. Any person who does and unauthorized act in relation to this publication may be liable to criminal prosecution and civil claims for damages.