B/N - 990 World Children's Day – 2020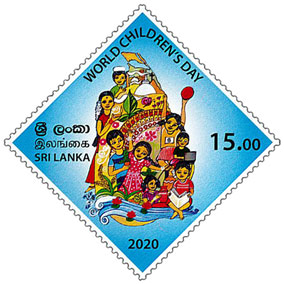 Sri Lanka Philatelic Bureau of the Department of Posts has issued a new postage stamp in the denomination of Rs. 15.00 to commemorate the World Children's Day 2020 on 02nd October, 2020.
| | |
| --- | --- |
| Date of Issue | October 02nd, 2020 |
| Denomination | Rs.15.00 |
| Catalogue No: | CSL 2400 |
| Stamp Designer | SamanthiMiriyagalla |
| Sheet Composition: | 20 stamps per sheet |
First Day Cover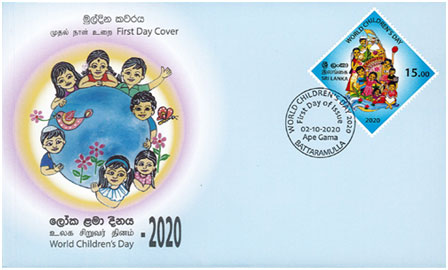 The State Ministry of Women and Child Development, Pre Schools and Primary Education, School Infrastructure and Education Services has declared "Let's Build Our Nation" as the theme of 2020 World Children's Day.
In developing the above theme, the Ministry focused on five aspects, i.e. our family, our education, our happiness, our heritage and our health, with the prime objective of creating a collective sentiment and understanding about their family, society, environment, public property and the future.
In particular, it has become a challenging issue to develop children's personality in the present society. This situation is attributable to the complexity of current society, fully-occupied life-style of parents, modern technology and trends of social networks.
In the present where society runs to bag remarkable achievements in higher education through children, attitudinal development, social principles, and values have been ignored. A child who grows up in such an environment demonstrates various unbalanced characteristics in his/her behaviour in school, family and social life.
In the process of establishing a balanced development successfully and effectively in a country, soft skills and hard skills, as well, should be developed in children. For the purpose, virtuous, law-abiding, just andskillful citizens with values should be moulded. Here, it is essential to have an overall personal development.
Accordingly, this year's World Children's Day theme mainly aims at creating a collective sentiment and understanding on family, society, public property and future in adults as well as children to have citizens with great virtue androbust personality in our country.
All rights reserved. All right to identify the Department of Posts as the Author and designer of this Bulleting has been asserted in accordance with the Copyright, Design and Patents Act 1988.No part to this publication may be reproduced, stored in or introduced into a retrieval system, or transmitted in any form or by and means (electronic, mechanical, photocopying, recording or otherwise) without the prior permission from the publisher. Any person who does and unauthorized act in relation to this publication may be liable to criminal prosecution and civil claims for damages.