B/N 993 Christmas 2020

The Philatelic Bureau of the Department of Posts has Issued two postage stamps in the denominations of Rs. 15.00 and Rs. 25.00 a souvenir sheet and Miniature Sheet First day Cover on December 04, 2020, to mark Christmas 2020.
Date of Issue
December 04th, 2020
Denomination
Rs.15.00,Rs.25.00
Catalogue No:
Rs.15.00 - CSL 2406
Rs.25.00 - CSL 2407
Stamp Art By
Rs.15.00 - T.R. Jayasinghe.
Rs.25.00 - T. Weerarathne.
Souniyer Sheet art By
K.A.E. Nesakya

First day Cover Art By
H.S.R.T. Peiris

Stamp Size:
41mm x 30mm
Sheet Composition:
20 stamps per sheet
First Day Cover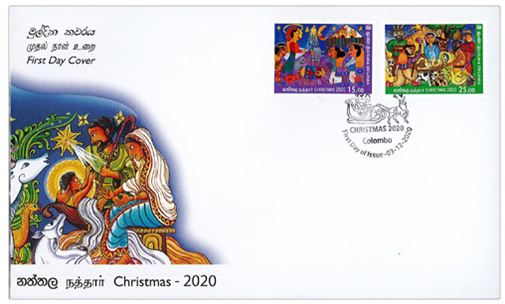 Miniature Sheet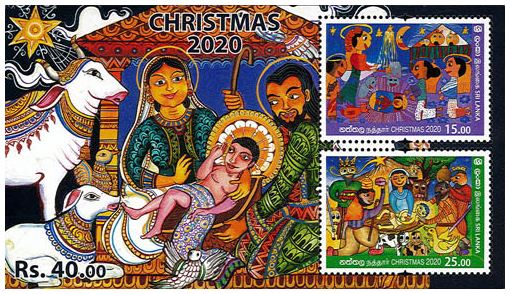 Miniature Sheet First day Cover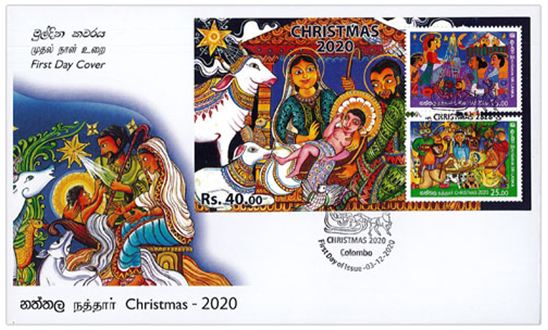 Prince of Peace Born in a Manger –
"Do not be afraid. Look, I bring you news of great joy, a joy to be shared by the whole people. Today in the town of David a Saviour has been born to you; he is Christ the Lord. And here is a sign for you: you will find a baby wrapped in swaddling clothes and lying in a manger." Luke 2:10-12
A RAY OF HOPE…. The Prince of Peace, The Anointed One, Jesus, was born on a cold winter's night in the month of December in Bethlehem in the town of Judea. He was born of humble lineage to Mary and Joseph. Wrapped in swaddling clothes and laid in a lowly manger because there was no room in the inn, the birth of Jesus was meek and unassuming, a birth to save mankind.
There have been many an important birth since the creation of the world but the birth of Jesus Christ is the most important birth in Christianity, the dawn of peace in the world for all humanity. Jesus came gently to draw us to Himself with an offering of peace with God. The good news of His birth was the beginning of a new meaning to love, peace and harmony to mankind, assuring us always that this same love and peace is there for us at all times.
The true meaning of Christmas is the celebration of the birth of Our Saviour, Jesus Christ. It is also a time to reflect spiritually on the foundation and important aspects of the Christian faith. A time to celebrate God's love for the universe through the birth of the Christ child, Jesus.
The beautiful piece of art designed for the 2020 Christmas stamp, depicts the story of Jesus, the Son of the Living God, in entirety. By perceiving the story of the birth of Jesus Christ, we are made to realise that Christmas is much more than another day!
All rights reserved. All right to identify the Department of Posts as the Author and designer of this Bulleting has been asserted in accordance with the Copyright, Design and Patents Act 1988.No part to this publication may be reproduced, stored in or introduced into a retrieval system, or transmitted in any form or by and means (electronic, mechanical, photocopying, recording or otherwise) without the prior permission from the publisher. Any person who does and unauthorized act in relation to this publication may be liable to criminal prosecution and civil claims for damages.